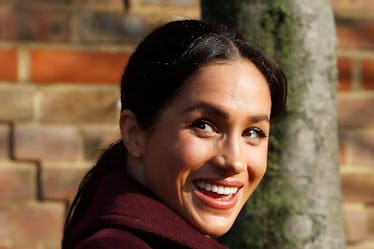 You Can Save $174 On This Gift Set Filled With Meghan Markle's Favorite Skincare Products
Chris Jackson/Getty Images Entertainment/Getty Images
If you've ever wanted to channel the Duchess of Sussex's glowing complexion (using skincare products, pregnancy glow not included,) then you're in luck because Meghan Markle's reported favorite skincare brand is $174 off right now. That's right, Tatcha, the brand that Markle reportedly swears by, is on sale right now on the TV shopping network, QVC.
QVC is currently offering Tatcha's Radiant Deep Brightening Serum ($193, QVC), The Essence ($95, QVC), and the Violet C Radiance Mask ($62, QVC), all in the Tatcha Bright & Radiant 3-piece Holiday Gift Set for just $174. If math isn't exactly your thing (same), then let me break it down and tell you that the set's total value is $348. Now, that said, QVC's originally retail amount for set was $192, but it's now on sale for just $174. This means you're literally getting it for half off (saving $174). If you've been dying to try out the cult-favorite brand that has been reported as the cause for the Duchess' beautiful natural glow, then I would advise taking advantage of this sale as soon as possible, as this sale is only expected to last through today, Friday, Dec. 7, according to PopSugar.
According to QVC, in a consumer survey, after testing out the combination of three products, 100 percent of consumers felt hydration was an immediate affect of the set, while 95 percent saw smoother and softer skin after use. Ninety-five percent also reported brighter-looking skin. With results like that, it's no wonder the popular brand has apparently landed itself as a Markle favorite.
If you decide to purchase the set but are unsure of what order to use the products in (hey, I get it, it's confusing, you should know that the correct order to apply these three products is to first use The Essence, then the Violet C Radiance Mask, followed by The Radiant Deep Brightening Serum. Specifically, after cleansing, shake two drops of The Essence onto your hands and firmly pat the solution into your skin. Then, using the gold-tone spatula that comes with the Violet C Radiance Mask, take one generous scoop and apply the mask onto your forehead, cheeks, and chin, and spread to cover your entire face. Leave on for 15 minutes and then rinse. Finally, use two pumps of the Radiant Deep Brightening Serum and massage and distribute the formula across your face.
If Meghan Markle's love for the brand and the consumer findings haven't yet convinced you to try these products yet, just wait until you hear exactly what each product is designed to do.
The Essence is formulated with an exclusive green tea, algae, and rice combination that leaves skin more than hydrated, while the Violet C Radiance Mask has a creamy texture and is formulated with seven different fruits, antioxidants, vitamin C and an exclusive anti-aging complex to leave skin smoother, hydrated, and brighter. Finally, the Radiant Deep Brightening Serum contains the ever-popular (and equally as effective) hyaluronic acid, which hydrates and helps to replenish the skin, locking in moisture to reduce the appearance of fine lines and wrinkles.
Basically, today only, you can look forward to receiving half-off of not only Meghan Markle's reported favorite brand, but a brand whose products have already proven to be super effective and deliver amazing results. Even if you don't have room on your skincare shelf for any more products, I'm willing to bet that someone on your holiday shopping list would be very pleased with this gift set.