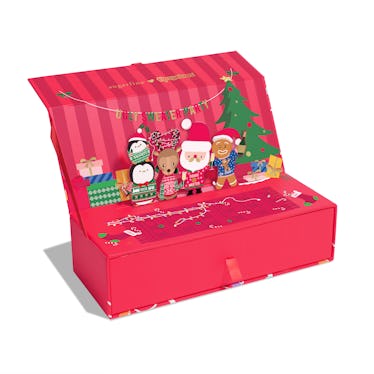 This Sugarfina x Tipsy Elves Collab Is A Delicious Spin On Ugly Holiday Sweaters
The holidays are a time for warmth, sweets, and gift-giving, and two of your favorite brands have come together this holiday season to make all of that a reality. This Sugarfina x Tipsy Elves holiday 2018 collection is the perfect way to get your ugly sweater and gummy candy on at the same time. This sweet twist on the ugly holiday sweater tradition is the perfect surprise to leave under someone else's tree this year (or, you know, your own).
On Monday, Dec. 3, candy brand Sugarfina and clothing brand Tipsy Elves joined forces to release a Candy Bento Box alongside two matching ugly sweaters. The Candy Bento Box contains three holiday-themed candies: "Merry Kiss-Mas" Sugar Lips, "Oh Snap!" Gingerbread Men, and "Dough Master" Sugar Cookies. The matching sweater set that complements that candy comes with two sweaters, one sporting "Merry Kiss-mas" along the front and the other with an image of a gingerbread man and text underneath that says "Oh Snap!" The Candy Bento Box is priced at $30 and the sweaters are $58.95 each, so you can keep your loved ones warm and full of candy for less than $100 this holiday season! What could be better than that?
Check out the adorable Bento Box and stylish sweaters below:
Now, let's talk candy details. The "Oh Snap!" Gingerbread Men are little gingerbread men gummies infused with a splash of ginger beer, perfect for those who like a little kick in their candy. The "Merry Kiss-Mas" Sugar Lips are sweet and sour gummy lips that come in three flavors within a single container — strawberry, cherry and watermelon. Despite the fact that Sugarfina is known mostly for its gummy candies, the third sweet in the set, the "Dough Master" Sugar Cookies, aren't gummies at all but tiny sugar cookies dipped in white chocolate and coated with a fine sugar. Is your mouth watering yet?
But of course, you'll have to have the matching sweaters to really seal the deal. Both the red and green "Merry Kiss-mas" and blue and red "Oh Snap!" sweaters are available in women's sizes XS through XL, though other sweaters and clothes also include XXL sizing like this "Stocking Stuffer" Christmas sweater and this "Meowy Catmus" dress.
The Sugarfina x Tipsy Elves collab isn't the only holiday-themed merchandise these two brands are offering. At Sugarfina, you can design your own eight-piece Happy Holidays Candy Bento Box for Christmas and buy a pre-made three-piece Happy Hanukkah Candy Bento Box with champagne-flavored gummies, sea salt caramels, and robin's egg caramels. At Tipsy Elves, you can find a wide variety of Christmas and Hanukkah ugly sweaters, t-shirts, leggings, and socks, like this women's "Challah" Hanukkah sweater and this "Mermanta" Christmas sweater.
So whether you're looking to snag a gift for yourself with something cozy as the temperatures drop, fill some stockings with unique candy, or buy presents for friends, family, and co-workers, the Sugarfina x Tipsy Elves holiday collection is guaranteed to be a huge hit. 'Tis the season to be cozy and hungry, so happy holidays and happy shopping!