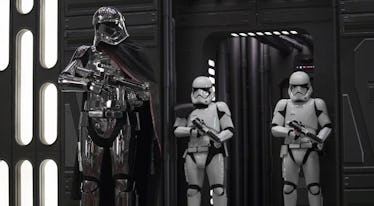 This 'Star Wars' Deleted Scene Shows Tom Hardy & Prince Harry & We're SCREAMING
Disney
It may have come out more than three months ago, but that doesn't mean Star Wars: The Last Jedi is done delivering some pretty incredible celebrity cameos just yet. As fans well know, rumors had been swirling for months ahead of The Last Jedi's release that Tom Hardy and Princes William and Harry would have cameos in the new movie, but their faces didn't appear in the film at all. Now, a Star Wars deleted scene shows Tom Hardy, Prince Harry, and Prince William in a galaxy far, far away! Or at least, everyone thinks that it's them... it's hard to be totally sure since their faces are covered with Stormtrooper helmets.
The new deleted scene is reportedly taken from the Star Wars: The Last Jedi DVD that is set to be released in April. The scene takes place towards the end of the movie, when Finn (John Boyega), Rose Tico (Kelly Marie Tran), and DJ (Benicio del Toro) disquise themselves as Stormtrooper captains in order to sneak onto the First Order's spaceship. In the scene, the group begin to worry that their cover is about to be blown in an elevator full of Stormtroopers when one of them recognizes Finn from his Stormtrooper past.
FN 2187? You don't remember me? 926? ... Well I remember you.
At first, it seems like Stormtrooper 926 is going to ruin Finn and Rose's plan, but then things take a lighthearted turn when 926 begins speaking in a Southern accent and gleefully congratulating his old friend on moving up the ranks to become a captain. 926 whoops and hollers, and even slaps Finn on the butt in congratulation. Check out the deleted scene for yourself below:
Supposedly, that Southern-accented Stormtrooper is Tom Hardy, doing what he does best: mumbling through a mask (Bane would be so proud). Although it is tough to be absolutely certain without a visual, this definitely seems to be the case given the vocal performance.
The tougher sell is that apparently two of the non-speaking Stormtroopers in the background of the scene are actually Prince William and Prince Harry. Obviously, there is absolutely no way to be sure about that since none of the other Stormtroopers speak in the scene, but rumor has it that the princes were visiting the Last Jedi set on the same day as Tom Hardy, so if they did get dressed in Stormtrooper gear, then this would be the scene that they appear in.
John Boyega was the one who confirmed the rumors about Tom Hardy, Prince William, and Prince Harry a couple of months prior to the Star Wars: The Last Jedi premiere date. After rumors had begin buzzing around online, Boyega told BBC Radio4 that all three men were indeed on the movie's set, but jokingly cautioned that the scene they were in may have been cut from the movie (which adds even more weight to this deleted scene being the real deal):
I think they took that scene out ... I've had enough with those secrets. They came on set. They were there. I'm sick of hiding it. I think it was leaked, anyway. There were images. Every time I get asked, I have to dodge it. I'm tired of dodging it. They were there. Tom Hardy was there too.
Initial rumors were fueled by a photo of Prince Willian and Harry with the Last Jedi cast posted by Kensington Palace on Twitter at the beginning of 2016.
If this deleted scene really does feature Tom Hardy, Prince William, and Prince Harry as it appears to, then it would establish a tradition in the new Star Wars trilogy of casting celebrity cameos as Stormtroopers. In 2015's Star Wars: The Force Awakens, Daniel Craig played a Stormtrooper in one scene. Now I am just thinking about who they could get to play a Stormtrooper in next year's Episode IX! My vote is for Meryl Streep.