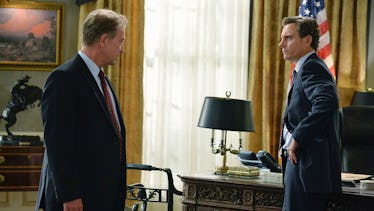 This 'Scandal' Deleted Scene Gives Fans One More Look At Cyrus & Fitz
ABC
Morality finally caught up with scorned politician Cyrus Beene in the final season of Scandal, which ended with his resignation as the Vice President of the United States and his admittance that he could never repent for his crimes while in office. Cyrus got what he deserved by the end of the series, but before Season 7's tying of loose ends, Cyrus was close to his ultimate goal when he unexpectedly became the President-elect in Season 6. In case you love a good villain, this Scandal deleted scene provides a special look at Fitz and Cyrus after one of the show's most crucial storylines.
The last few years of Scandal were a crazy whirlwind, and ICYMI, the first half of Season 6 covered a traumatic presidential election. Republican candidate Frankie Vargas won the election, but in an unprecedented twist, he was assassinated on election night. Thus, his running mate Cyrus was called to action, becoming the President-elect soon after he was briefly imprisoned for his suspected involvement in Vargas' murder (Papa Pope was soon revealed as the actual killer). Ultimately, Mellie Grant won the Electoral College vote, becoming the first female president in the show's universe and contributing to the events gradually leading to Cyrus's eventual demise.
But before Mellie's victory blew fans' minds, Cyrus was cleared of any potential charges in relation to Frankie's assassination and was tentatively named the President-elect. In a deleted scene from the Season 6 episode "Extinction," current president Fitz apologizes for the recent trauma and introduces Cyrus as the impending leader. You may experience something resembling PTSD seeing these characters relatively calm and composed so soon after the insanity of Scandal's final season, but am I the only one tingling from this brief return to the world of Olivia and Fitz?
The cut scene opens in the White House's press briefing room, where Marcus reveals that Congress has "moved swiftly" to ratify the Electoral College's vote and officially confirm Cyrus as the President-elect. He apologizes for Cyrus's arrest, and Fitz then addresses the press, complimenting Cyrus for his "extraordinary grace and generosity" in accepting the position, despite the treatment he received after the assassination. Oh, if they only knew what was in store...
When "Extinction" aired in March 2017, the country was still reeling from the results of the 2016 presidential election. Scandal leading lady Kerry Washington even discussed that despite being filmed before the actual election, these particular episodes ended up paralleling real life circumstances in an oddly similar way. During a 2017 appearance on The Ellen DeGeneres Show, Washington said, "We shot the episodes way before the real election... but it will be hard to believe that we didn't know about our election."
Bellamy Young, who played Mellie, agreed, telling Variety in 2017:
We shot the first five episodes last summer from July to September, so absolutely not…They were shot well before our American election cycle, but it's been so interesting to come back to work in January, starting with episode six and living in a world that's very different from the world that we were living in or the world that some of us thought we might be living in by now.
In the show's series finale, Mellie still had a strong hold of the presidential office, while Fitz was free to pursue a romance with Olivia yet again should he choose to do so. Cyrus was left to deal with his own demons, while Olivia relinquished her control in D.C., making the possibilities for her next step endless.
While this special deleted scene definitely invites fans back into the mindsets of Cyrus and Fitz at this turning point in Scandal, Shonda Rhimes and company definitely managed to stir up a satisfying ending for other Scandal characters. No need for reboots here, Shondaland!
Scandal Season 6 and 7 are now available on DVD.