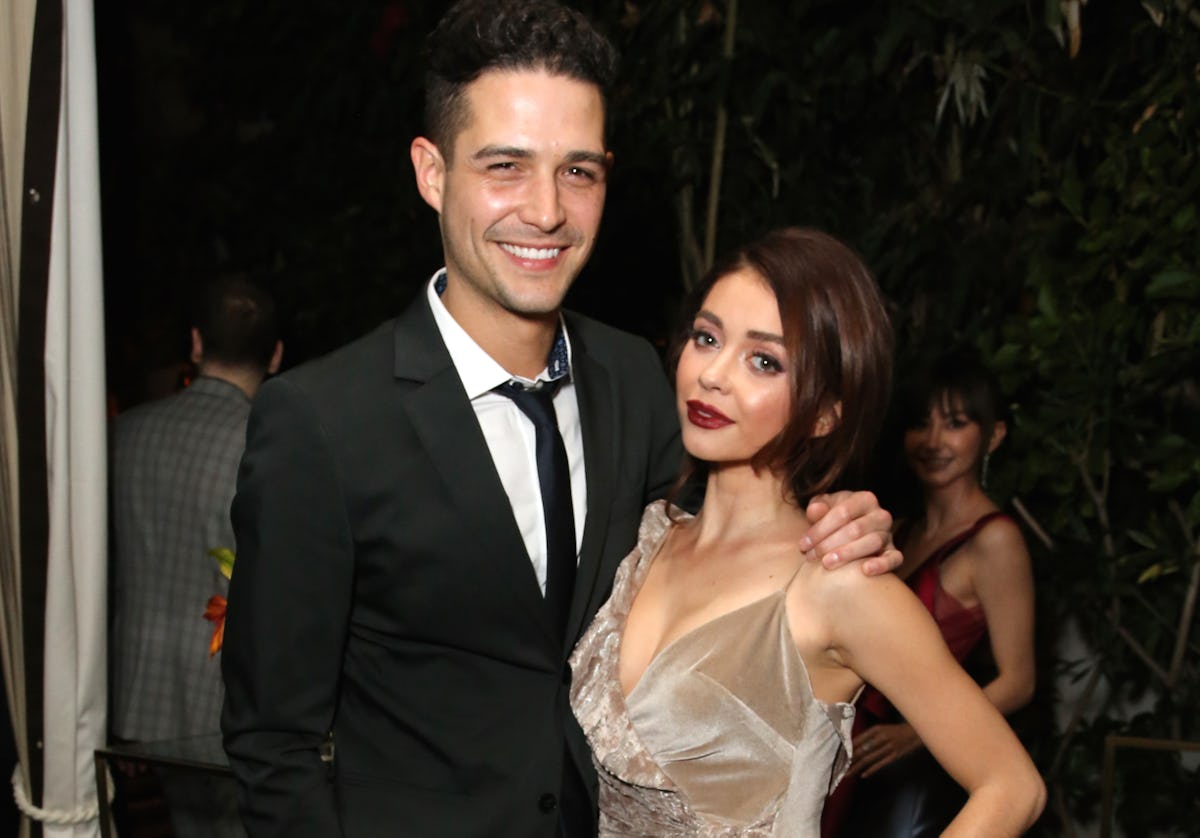 Sarah Hyland & Wells Adams Are Taking A Huge Step Forward In Their Relationship
Rachel Murray/Getty Images for Entertainment Weekly
Fam, it's been a minute since we heard any big news from Sarah Hyland and Wells Adams, so allow me to be the first to welcome this Sarah Hyland and Wells Adams relationship update with open arms. They're putting an end to their long-distance relationship! Before you panic, they didn't break up. The opposite has happened, really. Wells Adams revealed that he's moving to Los Angeles in order to close his and Sarah Hyland's long-distance gap, and my heart is all a flutter!!
Adams has a podcast called Your Favorite Thing. The podcast's most recent episode featured Adams' reveal that he's packing up and moving out to Los Angeles to be with his girlfriend. "I'm straight up moving to L.A.," he said. "Should I not have said it? I've got to go!" Eep!
So are they moving in together? Adams' comment on that is... a bit confusing. Let's take a listen, shall we? "I'm not concerned about us living together or us getting along or whatever," he said. "I'm most concerned about my dogs and her dogs." That's freaking fair. Dogs are more important than literally anything else, so.
What I'm the most confused about is what the heck, "I'm not concerned about us living together or us getting along," means. Does that mean they are moving in together and he's not worried about how it will go? Or does it mean they're not moving in together, he's just moving to L.A. to be closer to her, and he's not batting an eyelash over the fact that they're ready to be physically close to each other but not roommates? Tell me, Wells! Tell me!
Hyland and Adams recently went on a tropical vacation, and they looked happy and ~in love~ in their Instagrams from the trip.
Could it be because they're so excited for Adams' big move? A source told E! News that Sarah "is very excited that the couple's long-distance days are over now that Wells will be relocating to L.A." The source added that the pair has been "discussing the idea of Wells moving to L.A. for a couple months now but have taken their time and avoided rushing into things, up until recently." Elite Daily reached out to Hyland's team for comment on the report, but did not hear back by the time of publication.
The source also revealed that Hyland's friends are largely in support of their relationship and his move thanks to how well Adams treats her. "Sarah's friends love and accept Wells and say he treats Sarah very well… particularly during her recent health struggles," they said. "Her friends believe that Wells is very serious already about a long-term commitment and is moving to L.A. to build a future together with Sarah." Be still, my beating heart.
E! News reports that this big step is the only step they're taking at the moment, aka marriage hasn't been a discussion yet. "Currently, Sarah isn't thinking about marriage," the source revealed. "She's first focusing on the idea of living in the same house as Wells." Wait, so they are moving in together?! Or is he just moving to L.A. and then they'll decide whether or not to live together later?! Wells, go ahead and DM me the truth. I must know.