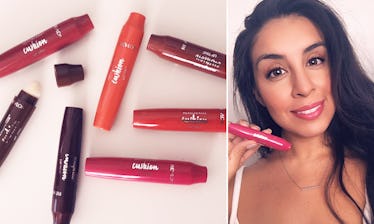 The $6 Lip Color That Will Hide Your Chapped Lips This Fall
Stephanie Montes
Real talk: My lips are perma-chapped. Though I suffer from it all year round, it's especially bad during colder months, which sucks because my dream fall and winter wardrobes consist of a good wool hat and a bold lip color. Now if I could only hydrate my lips and keep my lip color from peeling and flaking off, I'd finally be ready to bid adieu to summer. Let's see how my Revlon Cushion Lip Tint review holds up to my forever dry lips.
Although I'd like to wear wine-stained lips all fall long, here's my issue with wearing a dark lip. Applying lipstick on flaky lips is never a good look. I try to hydrate my lips as much as possible before I apply lipstick — because once I have color on them, I can't layer on the lip balm — but I need a lip color that gives me all-day hydration. I've tried lip stains before but they go on like water — they dry instantly and don't give your lips any moisture. Of course, I can apply a balm or gloss on top of a stain throughout the day, but I'd really prefer to have the long-lasting color of a stain and the creamy hydration of a balm all in one single product. I know I'm needy, but that shouldn't be too much to ask, right?
It's like Revlon was in my head when they created this collection of Kiss Cushion Lip Tint ($6, target.com). Each of the 10 shades are infused with coconut oil to keep my dry lips hydrated, no matter how cold it gets out. As for the texture, it's less of an oily feel, and more of a thick, creamy texture — think a gloss, but without that sticky feeling. It goes on like a dream and it camouflages flaky patches, unlike lipsticks that make them look more obvious.
As for the applicator, I wasn't expecting to love it as much as I did — it has one of those soft, spongey tips that fills with pigment after a few twists to the right — but it felt nice gliding across my chapped lips. Plus, I'm super into that bitten color and blurred finish right now, so the soft tip helped me achieve that baby-lips look I've been craving lately.
After clicking some of the formula to the surface of the sponge, I applied a single coat of a magenta shade called "Berry Lit." At first, the formula looked like a brightly pigmented liquid lipstick, but after a few seconds, it melted into my lips and left a pink-stained wash of color on my lips. Once it's on, I can't help by smack my lips together because the texture feels so nice. And my lips have a healthy-looking sheen to them now.
A second coat amps it up to a whole new level — my lip color just went from a light stain to bright shade of magenta (see the right photo above). But the soft, creamy texture remains. And just like that, I can finally be the girl who rocks a bold lip for fall, without denying who I really am: A girl with perpetually chapped lips.