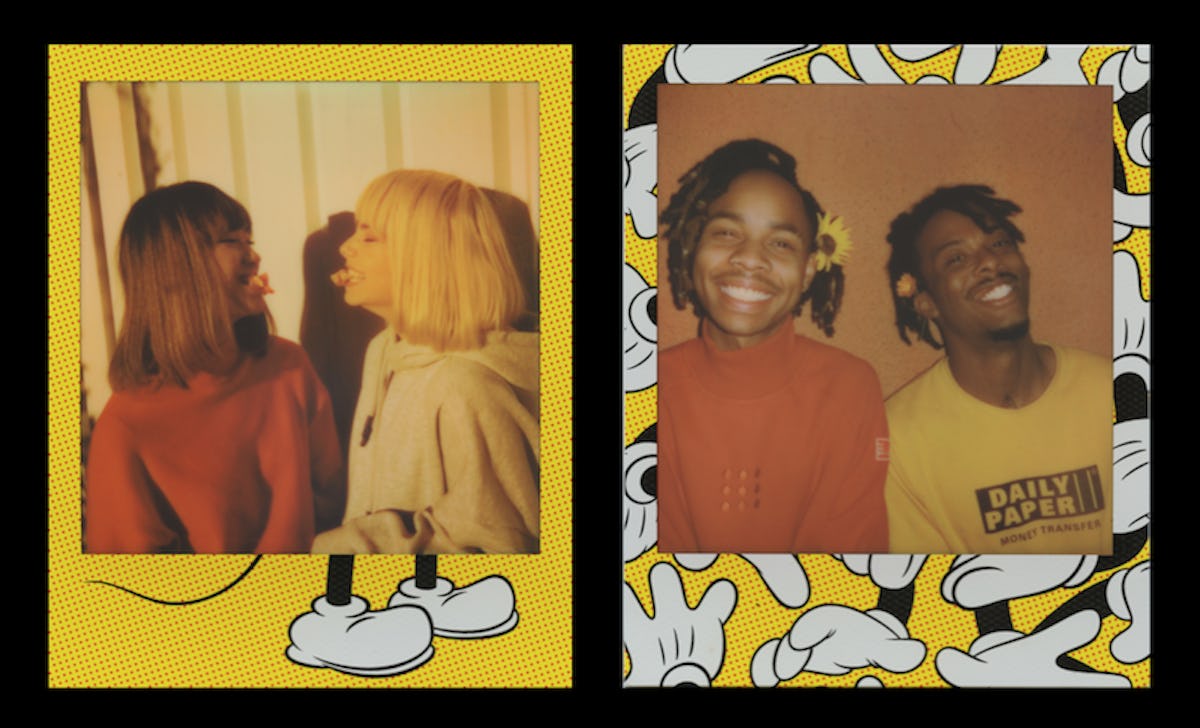 You Can Get Mickey-Mouse Themed Polaroid Film To Make Your Memories Magical AF
Courtesy of Polaroid Originals
I am a Polaroid-loving millennial and I don't care who knows it. There's nothing I enjoy more than showing up to a party with a Polaroid at hand and snapping instant photos of my friends — and I've got dozens of pictures on display in my bedroom to prove it. Most of the Polaroids I own have the standard white border, but each one of 'em is still special. However, I'd be even more in love with my collection if Mickey Mouse was featured in the frames. Luckily, the Polaroid Originals x Disney Mickey Mouse Camera and film packages are here to bring a little bit more magic to photo collections everywhere (including my own).
That's right: Polaroid Originals recently teamed up with Disney to create Mickey Mouse-inspired products in honor of the character's 90th anniversary. The limited-edition products include the Polaroid 600 Disney Mickey Mouse Camera and, of course, Disney Mickey Mouse 90th Anniversary Color 600 Film. Between a vintage aesthetic and Mickey Mouse-themed film, this nostalgic duo will bring so much magic to your memories.
Let's start with the Mickey Mouse-themed Polaroid 600 camera, shall we? According to Polaroid Originals, the "Mickey Mouse Cam" boasts Mickey's color palette (red, yellow, and black), in addition to cute animations on the face plate and flash bar. Most importantly — for all of you Polaroid enthusiasts — the refurbished camera includes a built-in flash and focus ranging, according to a Polaroid Originals press release. In other words, it's stylish and authentic.
What's a Mickey-themed Polaroid camera without Mickey-themed film, though? Luckily, Polaroid Originals has you covered. As I previously mentioned, the company created Mickey Mouse-inspired film that features the beloved Disney character in the Polaroid frames. According to a press release, each colored film pack includes eight out of 12 frame designs — and you won't know which designs you've gotten until you snap a photo.
Thankfully, the company has provided a few design previews that customers can expect when they purchase a film packet — and let's just say that Mickey Mouse would be proud of the choices.
As you can see, some of the Polaroid frames feature the same Mickey Mouse-inspired color palette as the camera, along with designs that feature the character himself. I'm convinced that these film frames would bring my photo collection to the next level.
If you'd like to give 'em a try, too, you can purchase both the camera and the film on Polaroid Original's website. One pack of the Disney Mickey Mouse 90th Anniversary Color 600 Film is currently on sale for $19.99, but you can get a three-pack for $58.00. Each film pack includes a total of eight instant photos — so stock up before your holiday parties this year.
Before you use the film, you're probably going to want to buy the Polaroid 600 Disney Mickey Mouse Camera. If that's the case, you can purchase one for $199.99 on Polaroid Original's website. Be sure to act quick, though, because the Disney products will only be available while supplies last.
Once you stock up, you'll have a collection of Mickey Mouse-themed Polaroid pictures on display in your bedroom to enjoy. Talk about magical memories.