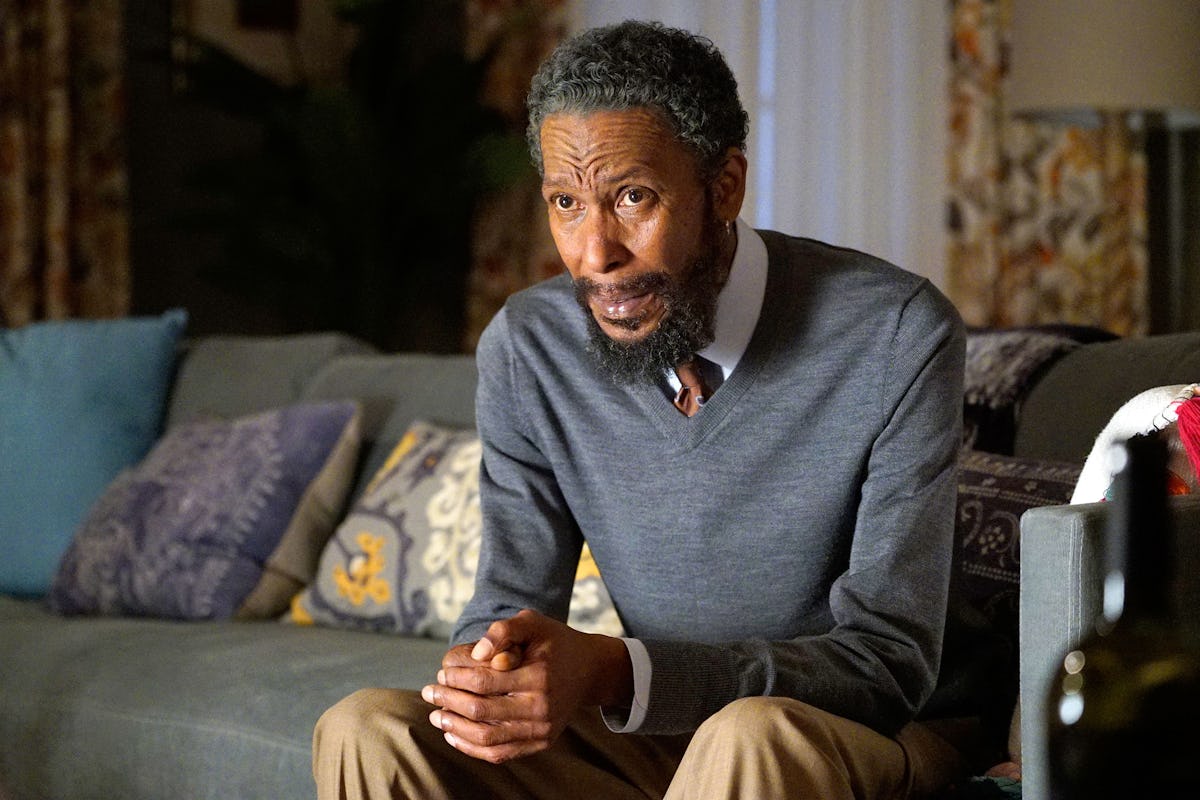 The 'This Is Us' Creator Just Shared A Huge Season 3 Twist With This Photo Of William
NBC
Bless This Is Us for not depriving us of Ron Cephas Jones's soulful portrayal of William Hill even after the terminally ill character died at the end of Season 1. William still appeared in the second season in flashbacks, leading to Jones's second Emmy nomination for playing Randall's biological dad, and it looks like we'll see him again in Season 3. This Is Us creator Dan Fogelman shared a major hint about William's upcoming role, and this photo of William from This Is Us Season 3 teases that we might be in store for a huge twist soon.
Between cast members' subtle clues of what to expect and even some behind-the-scenes photos of Season 3 filming, fans have a pretty solid idea of what major plots to expect when This Is Us returns. We know that the early days of Jack and Rebecca's relationship will feature prominently, as well as Jack's experience in the Vietnam War. As far as what happens in the present day, we're a little less informed and viewers have to rely on speculation. Do Kevin and Kate's finale flashforwards come from the same time period? How far in the future is Randall's cliffhanger conversation with a grown Tess, and who is the "her" they're talking about?
Fogelman has now dropped a big surprise about what else we can expect. On Twitter, he posted a screenshot from an upcoming This Is Us episode that seemingly shows a slightly younger-looking William with a baby. Alongside the photo, Fogelman wrote, "Season 3. Brace yourselves."
The photo stirred plenty of guesses about when in time it takes place. We can rule out the baby being Randall, as we saw William (played by a much younger actor) abandon him at a fire station when he was a newborn. The kid in Fogelman's picture is definitely not fresh from the womb, plus William is clearly on the older side. The show has also clarified that Rebecca purposely kept Randall from his biological father despite having met William soon after the Big Three's births. Let's hope that This Is Us isn't going to start chewing on its own words anytime soon.
Knowing that the baby definitely isn't Randall, fans have offered suggestions in replies to Fogelman's post. Some are wondering if William had another child late in life with someone Randall doesn't know about, which is logical. However, seeing as William's poems discussing a lady turned out to be about a mural and he was in a relationship with a man when he was older, a secret half-sibling seems unlikely. One particular fan theory is mind-blowing, but if you think about it, it makes complete sense. Get your tissues ready!
If this idea is true, Rebecca probably should've come clean about this awhile ago, but for now, I'm obsessed with how feasible it is. Babysitting Tess on her own, perhaps Rebecca feels obligated to reach out to William and tell him that Randall has a new daughter. We don't know the status of William's health in late 2008, when Tess was born, but based on the photo, he seems in much better shape than when Randall first met him. Maybe Rebecca takes Tess to his apartment for the new grandfather to meet the baby. I'm tearing up already!
The only qualm I have about this theory is why Rebecca wouldn't have told anyone by now, but the concept makes Tess's connection with William even more beautiful. Randall's elder daughter particularly struggled in Season 2 after losing William and then saying goodbye to Deja, and if it turns out that she bonded with William as a baby, the fact that she lost a biological grandpa so quickly wouldn't feel as heartbreaking as usual.
Count William's new storyline as something to keep an eye on in the upcoming season. Season 3 of This Is Us premieres on Tuesday, Sept. 25, at 9 p.m. ET on NBC.