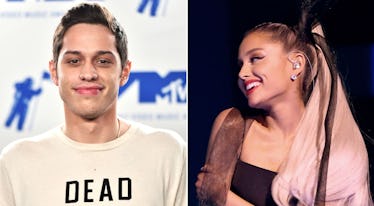 This Photo Of Pete Davidson Kissing Ariana Grande Is Literally The Sweetest Thing
Alberto E. Rodriguez/Getty Images; Kevin Winter/Getty Images Entertainment/Getty Images
Wow, you guys! The relationship between Ariana Grande and Pete Davidson is definitely heating up and I can barely keep tabs on what's going on. Their relationship seemingly came out of nowhere and now, all they can't stop celebrating their love on social media. And let's just say fans are loving every minute of it. Actually, this photo of Pete Davidson kissing Ariana Grande is super sweet. Plus, it really gives you a sense of how much these two enjoy each other's company.
The photo was shared by Grande on her Instagram account. She captioned the photo like this:
i thought u into my life 💭 woah ! look at my mind 💡⚡️🙈
...which is so incredibly sweet. Is Grande saying that she dreamed of someone like Davidson? It certainly seems like it.
Elite Daily reached out to both Grande and Davidson's teams for comment on the recent dating reports, but have not heard back at the time of publication.
Obviously, Grande is loving her life and Davidson fits right into where she is emotionally right now. And that's so great to hear. They seem so happy in all the super cute (and majorly quirky) pics they've been posting together as of late, and it just warms my heart.
If you've been following Grande's life recently, then you probably know that she's been going through a lot of changes as of late.
Just a few weeks ago, on May 9, word got out that Grande had split from her longtime boyfriend Mac Miller. A source close to Grande recently revealed to Us Weekly why the relationship wasn't working:
Ariana and Mac officially broke up after Coachella weekend, but ultimately the relationship had been over long before. Ariana was holding Mac together for a long time and it wasn't a good relationship for her.
Elite Daily reached out to Mac Miller's team about the claims made about His relationship with Grande, but did not hear back by the time of publication.
Davidson, too, has been making big changes in his personal life. On Wednesday, May 16, Davidson confirmed that he'd broken up with his girlfriend Cazzie David after two years of dating.
The revelation came via an interview with Complex's Open Late with Peter Rosenberg. While talking to Rosenberg, Davidson explained that he and David weren't together anymore:
We're not together anymore. Very talented girl, she'll be great and she'll be fine. Yeah, I think she'll be okay.
So, basically, all of that left Grande and Davidson open to connect with each other. And they seem to be really hitting it off.
More recently, Grande and Davidson were spotted out and about with Davidson's mom. At least, according to Us Weekly. A source for the magazine explained:
Ariana was hanging out with Pete and his mom at the SNL afterparty at Zuma on May 12. Ariana is very happy.
As sweet as this all sounds, though, their union hasn't stopped fans from passing judgment on the relationship. Davidson, who has borderline personality disorder, has been a target for negative comments on social media. So much so, that he took to Instagram to explain that those with mental illness can, in fact, have healthy and fulfilling relationships:
I been hearing a lot of 'people with borderline personality disorder can't be in relationships' talk … Just because someone has a mental illness does not mean they can't be happy and in a relationship. It also doesn't mean that person makes the relationship toxic.
Good for him for doing his part in de-stigmatizing mental illness!
For those of you who don't know, Grande and Davidson have known each other for a while. Back in 2016, when Grande appeared on Saturday Night Live, the two shared a brief moment of screen time after the singer's introductory monologue. There's been no word yet on whether they first met on the SNL stage, but at the very least, they established a nice friendship.
And now that friendship has turned romantic. So, everything seems to have worked out for them!