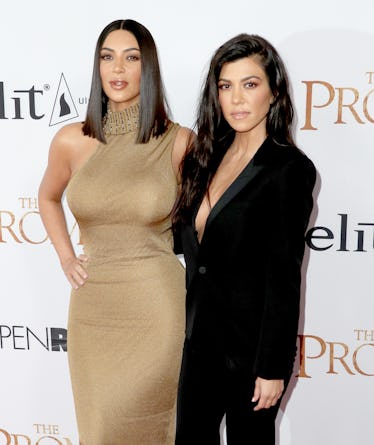 Kourtney K Just Shared The Most Gorgeous Pic With Kim From 1995 That'll Have You Shook
Frederick M. Brown/Getty Images Entertainment/Getty Images
It's not Thursday, but Kourtney Kardashian is already posting throwback photos. The Keeping Up With The Kardashians star took to Instagram on Tuesday, Aug. 28 to share a 23-year-old photo of herself and her sister Kim Kardashian. And let me tell you, those two haven't changed a bit in all these years. The photo of Kourtney and Kim Kardashian from 1995 definitely shows that they didn't have an awkward phase like the rest of humanity at that age. Amazing!
In the photo, you can see 16-year-old Kourtney and 15-year-old Kim smiling big, cheesy grins for the camera. They look nearly the same as they do right now, which isn't true for everyone. Most people go through an awkward teen stage where they look like completely different people! But not these Kardashian girls!
All in all, the photo is really sweet. And it definitely harkens back to a simpler time... you know, before all the drama and feuding that's going on in the current season of Keeping Up With The Kardashians.
Season 15 of the popular reality series kicked off with a wild fight between the Kardashian sisters that resulted in one of the most meme-able moments of the year. In the season premiere, which aired on Aug. 5, Kim berated Kourtney for not wanting to participate in an important family photoshoot. And that started a no-holds-barred argument that totally went off the rails. During the argument, Kim can be heard implying that Kourtney doesn't do anything and saying, "Maybe if you had a f*cking business that you were passionate about then you would know what it takes to run a f*cking business, but you don't."
Yikes. Clearly, so much has happened since they snapped that sweet photo in 1995. Here's a look at it, by the way:
Despite the fact that their feud is running its course on the show, Kourtney and Kim seem to be doing just fine right now.
Kourtney posted this photo of herself and the rest of her sisters (Kim included) at Kylie Jenner's birthday party on Aug. 10:
And she shared this photo back in June 2018:
So, although Kourtney and Kim are at each other's throats on the show, it seems they've kissed and made up. And perhaps that's all thanks to the therapy sessions the sisters attended while they were filming the show.
On the Aug. 12 episode of Keeping Up with the Kardashians, Kourtney agreed to a group therapy session with her sisters. During that session, she opened up about all the tension between them, saying:
I'm here to do this group therapy with my sisters, which I didn't think that we needed. But I think that because we just don't communicate that well, maybe having somebody else guide the conversation could be very helpful … I think generally we just need to learn how to communicate together. And I'm the one who invented 'mean fighting,' just saying the meanest things possible, but I'm just not wanting to fight like that anymore. I don't want to be mean and I don't want to spend my time around people that are mean and putting me down.
There are obviously some things the sisters need to work out, but it's nice to see that they have each other's backs no matter what. That photo from 1995 proves it!