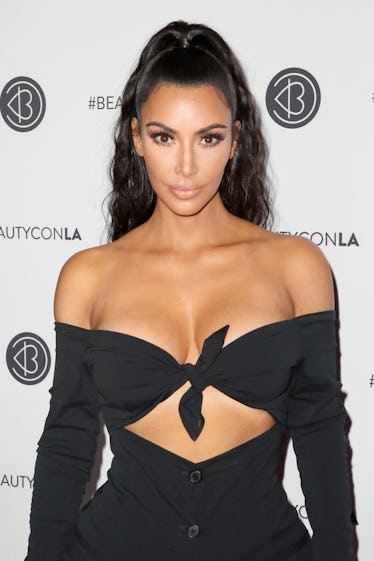 Kim Kardashian Just Shared A Throwback Photo With Her Dad That Is Quintessential '90s
David Livingston/Getty Images Entertainment/Getty Images
Raise a hand if you desperately wish the '90s would come back. Like, all of it. The whole decade. I'm talking butterfly clips in your hair, doodling inside of your binder with milky pens, and trying desperately not to kill your Tamagotchi. What a time to be alive. And apparently, I'm not alone in my appreciation for all-things-'90s, because a photo of Kim Kardashian with her dad has been posted to Instagram by the Keeping Up With The Kardashians star, and honestly, it will totally bring you back to a time where you had a horde of Beanie Babies and were patiently waiting for Are You Afraid Of The Dark? to start playing after getting off the bus from school. Do you feel transported back a few decades already? Because I totally do.
'90s nostalgia aside, the sentiment of Kim K sharing a photo with her late father to the world is incredibly sweet. Back in 2003, Robert Kardashian Sr., who was an adviser for O. J. Simpson's legal team back in 1995 during the athlete's double-murder trial, died at the age of 59 due to esophageal cancer.
Back in 2016, Kardashian took to Instagram to send an emotional birthday message to her father, sharing a photo of him with a caption that read:
Happy Birthday dad! So much has gone on in our lives since you've been gone, and I know you have been my guardian angel seeing it all unfold! I love you and miss you so much!
BRB, just crying a little bit over here. But let's move onward to happier times, shall we?
On Tuesday, Sept. 4, Kim K took to Instagram once more to post the ultimate throwback, and it will make your '90s-loving heart absolutely complete.
"1998," Kardashian captioned the photo of her with her dad, and oh yes, Kim, we can totally tell the year that this photo took place:
Let's talk about those amazing butterfly clips she's wearing, complete with a hairstyle that literally every teenage girl who grew up in the '90s wore. And those thin, perfectly plucked eyebrows? To die for. And shimmery eyeshadow that complements that V-neck top? Goals, Kim. Goals.
And let's not overlook that impeccable interior design — the pattern on the chair totally gives away the era, and I'm truly not hating it. I firmly believe that it's something that Bobby from Queer Eye would be proud of.
OK, he may have made a few adjustments, but still.
A big, heartfelt thanks to Kim for sharing that gorgeous gem of a memory, because it not only made me remember my true appreciation for the '90s era, but it also made me super sentimental thinking about family memories.
The KUWTK star opened up about one tradition in particular that she stopped doing after her father's death back in March 2018. On her app, she talked about the significance of skiing, associating the activity with a special tradition that her dad created, and is now finally something that she and her family have begun once more.
"We usually skied together on Thanksgiving, which was his holiday to take us," she shared. "Once I finally got back out there, it was as if I never left. Now, I make it a point to go at least once a year with my family ... North has already had two years of ski lessons and I can't wait to start Saint next year! It's such a fun activity to do together as a family."
Damn, Kim! You're bringing out all of the emotions in me today. So, from one '90s girl to another, let me simply just say: You're totally rad. You're super phat. Beyond tight. Well, you get the picture.