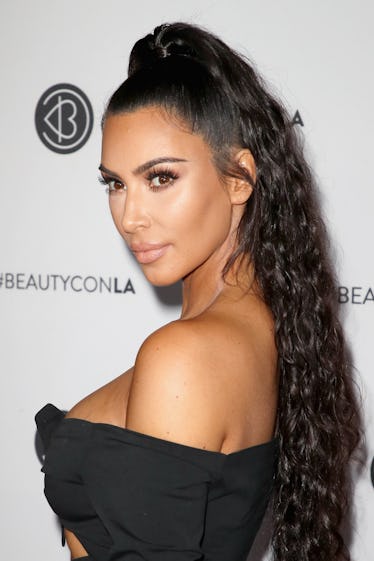 There's Something Really Different About Kim K In Her Latest Selfie That You'll Love
David Livingston/Getty Images Entertainment/Getty Images
Kim Kardashian just posted a selfie that will make you do a double take. The mom of three has been all about experimenting with bold new makeup looks ever since launching her KKW Beauty line (and long before that, to be honest), but this latest move is one of her most bold, but simultaneously simple, yet. And she's rocked it before. The photo of Kim Kardashian wearing colored contacts makes her look almost unrecognizable. She tried this look out at the 2018 Met Gala, but the contacts were a honey color then. This time, Kim K tried out a smokey looking green that's similar to the color of Khloé Kardashian's natural eyes.
When she rocked colored contacts for the 2018 Met Gala, Kim K talked about the decision in a post on her app about her a glam preparation for the big night. "This year at the Met, I wanted my glam to complement my '90s-inspired gold Versace dress," she said. "We chose honey-colored contacts that weren't too far off from my natural eye color, just a bit brighter." Going with a color that was just a few shades lighter than her eyes really made them pop. "We can sometimes achieve this color when I wear a golden eyeliner and the lighting is right," her post says, "but I wanted to really go for it on the red carpet."
Here's what her latest color contact experiment looks like.
Giving me all the supernatural vibes here.
She seems to be wearing the same look in the selfie she posted of her and Kylie Jenner in honor of Jenner's 21st birthday.
In the photo, she and Jenner are wearing basically the same top and the same haircut, and they're both wearing colored contacts. She said in the caption,
Happy 21st birthday @kyliejenner baby!!!!! It's such a trip that my baby sister is 21 😱 So happy to be on this sister and now mom journey with you forever!!!! I love you so much! You will still always be my baby sis and I'm always here for you no matter what!
Maybe this photo is from a photo shoot they did together that hasn't been revealed to us yet?
This was Kim Kardashian's 2018 Met Gala glam look.
You can really see the honey-colored contacts in the picture. It's a killer look that her husband has actually tried before.
Kanye West wore colored contacts to the Met Gala once before, too.
He rocked the blue contacts to the 2016 Met Gala while Kardashian opted to lighten her eyebrows.
The theme for the 2016 Met Gala was "Manus X Machina: Fashion in an Age of Technology," so these looks served.
Kardashian has been into colored contacts as far back as 2013.
On March 20, 2013, she tweeted, "Fun photo shoot today! Loving these colored contacts! Can't wait for you guys to see what this is for." It's not clear what this tweet ended up referencing, but she clearly has loved them for a while now.
Fans are on the fence about the contacts. Some love the trend, some wish the Kardashians wouldn't make them trendy. This is what they were saying about her Met Gala glam.
We'll see if this actually becomes a thing.