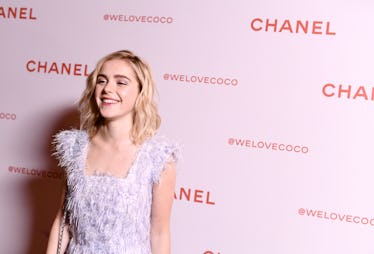 This Photo Of Kiernan Shipka As Sabrina Shows She's Going To Be The Perfect Teenage Witch
Emma McIntyre/Getty Images Entertainment/Getty Images
When Riverdale's showrunner Roberto Aguirre-Sacasa first announced a Sabrina the Teenage Witch reboot was in the works to pair with the popularArchie comic TV series, fans couldn't wait to see who was playing Sabrina and how she'd fit into the already established universe. But when the show wound up in Netflix's hands rather than the CW, the chances of crossovers were smashed. But fear not, magic fans, because even without a deliberate connection to Archie and his friends, Kiernan Shipka as Sabrina is looking like a whole lot of spooky fun.
For those who might not remember Kiernan Shipka, she started out as Sally Draper on AMC's Mad Men back in 2007. Over the course of the show's eight years on the air she went from a 7-year-old kid to a teenage sensation, wowing fans on the red carpet and seemingly preternaturally talented at the celebrity game.
Now she's 18, and all grown up. This is her chance to make the jump from child star to adult star, which is one of the trickiest transitions. If Chilling Adventures of Sabrina takes off the same way Riverdale did, there's a good chance she'll pull it off too.
Check out the first photo of her on set.
The original 1990s version of Sabrina the Teenage Witch, was a lighthearted comedy with an animatronic talking cat sidekick. (Shut up, Salem was awesome.) The new version is definitely looking to aim more for the original comic books, even making Shipka up to look like the comic book version of Sabrina, headband and all.
It's also aiming for a more horror-film type tone, with Aguirre-Sacasa comparing it "tonally in the vein of Rosemary's Baby and The Exorcist." So think along the lines of American Horror Story for the teenage Riverdale crowd.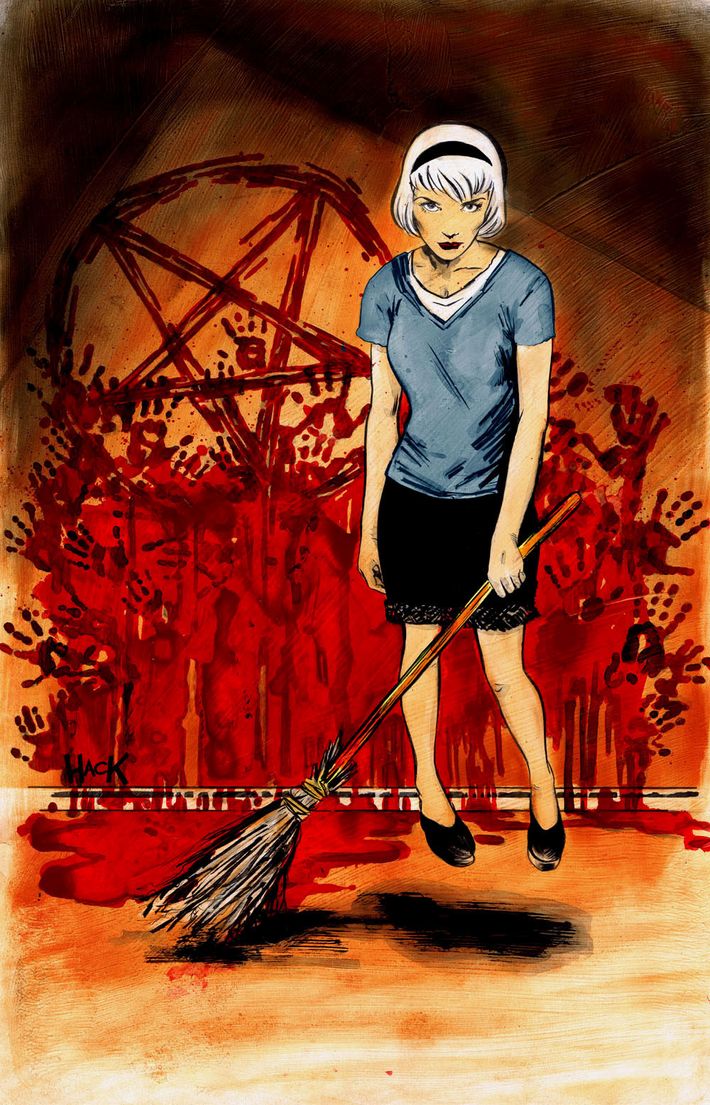 Fans also were blessed with a picture of Sabrina along with her number one guy, Harvey.
But don't worry, fans of Salem, because her cat is definitely going to be part of the show too. (Cat ladies would riot if he wasn't.) Check out this photo from the showrunner of his adorable panfur sleekness.
Where he will famously do his claws with a nail file remains to be seen. But even if he doesn't, I'm sure there will be other ways to express how unimpressed he is with everything, as well as his megalomaniac desires for world domination. After all, he's a cat.
According to E!, the cast at this point is mostly set.
[The show] will also star Ross Lynch as Sabrina's BF Harvey, Wonder Woman star Lucy Davis as Aunt Hilda and Miranda Otto (Homeland, Lord of the Rings) as Aunt Zelda.
Other roles include Bronson Pinchot (Perfect Strangers) as the villainous principal of Sabrina's high school, George Hawthorne, and Richard Coyle (The Collection) as Father Blackwood, High Priest of the Church of Night and Dean of the Academy of the Unseen Arts.
Netflix's ordered two seasons of the show from the jump, 10 episodes each, so fans are guaranteed 20 episodes total over the next two years. Though it is not airing on The CW, Netflix has assured everyone that the show does take place in the same universe. So though Sabrina won't be starting out on Riverdale and then spinning off into her own series as fans thought might happen, there is still hope for a crossover character or two.
Riverdale's fan turn around to Netflix will help. The current season on network TV will come to Netflix one week after the finale airs on Wednesday, May 16, 2018. Chilling Adventures of Sabrina is expected to premiere in late 2018 on Netflix.