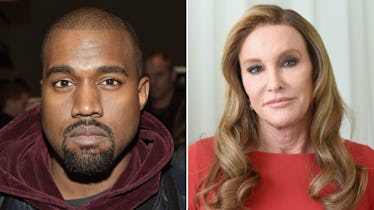 Kanye West Shared Screenshots Of His Texts With Caitlyn Jenner That'll Surprise You
Grant Lamos IV/Getty Images Entertainment/Getty Images |Vivien Killilea/Getty Images Entertainment/Getty Images
Kanye West wants you to know that he and Caitlyn Jenner are getting along just fine... even if his wife, Kim Kardashian, isn't a fan of Jenner's at the moment. The 41-year-old rapper took to his Twitter account on Thursday, Aug. 30 to post screenshots of his texts with Jenner. And that comes as a huge surprise, since the Kardashians haven't been on good terms with Jenner for a while. More than anything, the photo of Kanye West's texts with Caitlyn Jenner proves that there's still a lot of love in the family.
In the screenshots that West shared on Twitter, texts between him and Jenner are clearly visible. The main text in the image features Jenner's friend, Sophia Hutchins, rocking some items from West's clothing line. The photo is also featured on Hutchins' Instagram account.
In the next text, Jenner wrote, "Sophia loved the first set of looks your team left and went all yeezy for her travel outfit today! We love your looks!!" She later added, "Thanks again."
West then replied with, "So awesome. Your welcome."
From those short messages alone, it's easy to see that West and Jenner are still super friendly and have a great relationship. It's nice to see that there's still a lot of love and support between them.
See West and Jenner's texts below:
Jenner had a very public falling out with the Kardashian family, including with former wife Kris Jenner, when she published her memoir Secrets of My Life. According to the Kardashian-Jenner family, the book was riddled with half-truths and, in some instances, outright lies.
Kim Kardashian even went as far as to call Jenner a liar.
"I have always had Caitlyn's back," Kim said in a 2017 episode of Keeping Up With The Kardashians. "But she is a liar. She is not a good person."
Kardashian-Jenner matriarch Kris was also incredibly upset and hurt by the memoir. On an episode of KUWTK, she expressed her disbelief and dismay at the whole ordeal.
Here's how it went down on Keeping Up With The Kardashians:
In a September 2017 interview with Good Morning Britain, Jenner defended herself and explained her perspective. "I went overboard to be nice, to be friendly, to be open, but also tell my story and my side of the story." Jenner explained. "Since the book came out, I've never talked to Kris again. Kim, I haven't talked to in six, nine months, whatever it is."
She also opened about her love for Kim, even in spite of their troubles:
I love Kim. She's a great person. I have such respect for her as a mother, as a businessperson, but like Kris, she is very opinionated, but that's OK. I love that about her. It's unfortunate, because actually Kim was the first one I talked to about this issue. She was very straightforward with me … She's been very, very good on it. It's a big loss in my life, not having her there anymore. And to me, I mean, that's sad. I love all my children. I raised them. I spent 20, almost 25 years of my life with all these kids.
Needless to say, there's been some bad blood between all the people involved here. Seems like West is keeping things friendly and that's a good thing.