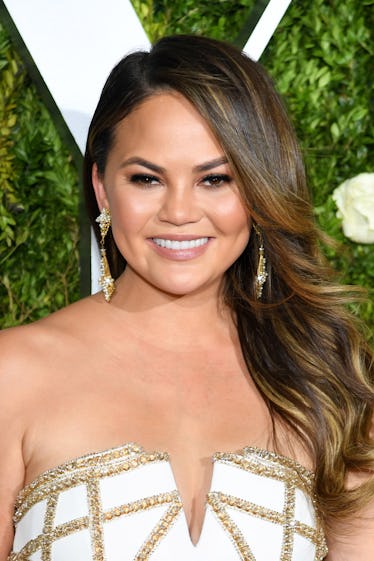 Chrissy Teigen's Dad Got A Tattoo Of Her Face That's Almost Too Epic To Be Real
Dimitrios Kambouris/Getty Images Entertainment/Getty Images
When it comes to her family, Chrissy Teigen is all about love. And that feeling is mutual! Teigen's dad recently got a tattoo to honor his daughter's birthday and you won't believe how amazing it looks! The photo of Chrissy Teigen's dad's tattoo of her face will instantly put a smile on your face.
Teigen shared the sweet photo of her dad's new tattoo on her Instagram. In the photo, you can see Teigen's dad standing with tattoo artist Marc Mahoney and looking super happy. And on his left arm, you can see the tattoo of Teigen's face as well as the stencil used to create the tattoo. It's pretty amazing!
According to the caption of the post, her dad got the tattoo as a birthday present. Teigen's birthday was actually on Nov. 30, but Teigen only revealed her dad's tattoo on Monday, Dec. 10.
"MY DAD GOT A TATTOO OF ME FOR MY BIRTHDAY," Teigen wrote in the caption of her post. She also included the tattoo artist's name and Instagram handle.
Getting your child's face tattooed on your body is a huge commitment and an even greater declaration of love. Obviously, Teigen's dad has a lot of love for his daughter, which is just so sweet! In any case, here is a look at the photo of the tattoo:
It's a little hard to see, but the likeness is pretty striking! I'm sure her dad is excited to have his new ink all over social media. Teigen's dad is actually quite active on social media. One look at his Twitter account and you'll know for sure where his daughter gets her love of social media from. In recent months, he's been posting about his love for video games, his dislike of the current political landscape, and his granddaughter Luna's toys.
Teigen's dad has also used social media to tell the world who his celebrity crush is. In a now deleted tweet, Teigen's dad wrote about how beautiful he thought Eva Longoria was even without makeup.
"One of the world's most beautiful women makeup or not. A special hello from Pops Teigen," he reportedly wrote back in July 2018.
Teigen tweeted Longoria and apologized for her dad's social media antics shortly after.
"One, you look incredible and mom buns are life. Two, I'm sorry for my father," she wrote.
Longoria was totally OK with the whole thing, though. "Aw thanks Chrissy, and I love your father already, I know my demographic! 😂," Longoria tweeted at Teigen.
So, Teigen and her dad are pretty much the same when it comes to social media: hilarious. Speaking of social media, Teigen recently opened up to Elle UK about the effect it's had on her career and how the public perceives her.
"Guys have always come up to me since I did Sports Illustrated," she said. "But now, they all say the same thing: 'My girlfriend loves you.' And I couldn't be happier."
Needless to say, Teigen's social media activity has had a huge impact on people and on her life as well, which is amazing. And she's obviously setting an example for her dad, who seems to be catching on quickly!