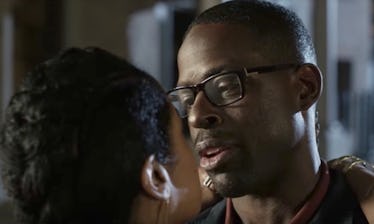 Here's Our First Look At 'This Is Us' Season 3 & It Says A Lot About Randall
NBC
Is that a smile I see in a photo from This Is Us Season 3? The NBC is known for making audiences cry on a weekly basis, but creator Dan Fogelman's sneak peek pic from filming has us cheering enthusiastically, just like Randall Pearson himself. Beth looks positively ecstatic and her hubby is clearly enjoying himself as well. Are the emotional tides turning on this tearjerker of a series? I wouldn't count on it — this is probably just a fleeting scene in the lives of the Pearsons.
"First scene up, Season 3 baby!!!" Fogelman tweeted on Tuesday, sharing a behind-the-scenes shot of Sterling K. Brown and Susan Kelechi Watson filming together.
Randall is sitting in the kitchen having a joyous glass of orange juice as Beth looks on, flashing a happy face. What does it all mean?! Well, the set-up doesn't say much about the plot to come — are they watching the World Cup? Did they just get an exceptional batch of fresh squeezed OJ? — at least fans can take comfort in the fact that this tight-knit immediate fam will have a temporary moment of breakfast table bliss.
Season 3 is officially upon us. Go Pearsons! Randall's got the right idea...
"Twas a good day!" Sterling K. Brown responded to Fogelman's tweet.
"Loved watching you guys back at work today my friend. It's a treat to watch you do your thing . My TV fam is world class. #ThisIsUs," Fogelman wrote to Brown after the actor expressed support for his upcoming film, Life Itself.
Could this cast and crew be any cuter? They truly look like one big happy working family.
Shooting for This Is Us is underway now, but Season 3 won't debut until the fall. While Dan's first look photo is filled with Pearson glee, it sounds like fans should expect plenty of tears when the series returns.
"Just read our season 3 premiere episode on the flight home... The flight attendant asked if I was okay... still not sure," Chris Sullivan, who plays Toby, teased via Instagram stories last month.
Toby's battle with depression will be central to This Is Us next season, although it's unclear to whether the actor is hinting at events surrounding his particular character.
"It's important to note that in relationships, there's always somebody that might be a little stronger at one time, and then that dynamic switches," Chrissy Metz, aka Kate, explained regarding what's in store for the couple's relationship. "He's helped Kate get through so much of her stuff that she's really ready to show up for him, and while it might be difficult, it's going to be necessary because they're going to contend with some hardships. Yet again. Life on life's terms."
Next season will continue to use its enlightening time-jump device to show the Pearsons at various stages in their lives, and yes — there will be flash-forward moments that reveal their future selves. It's not just about the present and the past, people.
"That was something we all knew going in and when we saw that jump into grown-up Tess, adult Tess and older Randall, that was where he always wanted to go. I don't know that the show always lives there, but I think understanding that we do exist in the past, it makes sense that we'd exist in the future as well," Milo Ventimiglia explained to Entertainment Tonight.
"In my mind it's the best season of television that's ever been made. I'm as excited about it as I've been about any of our seasons, it's our biggest and most ambitious," Dan Fogelman revealed at a Four Your Consideration event in May.
This Is Us Season 3 premieres Tuesday, September 25 on NBC.
If you need more cast adorableness in the meantime, look no further than this video below: