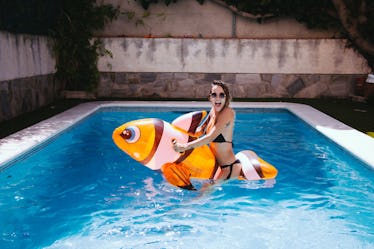 Every Millennial Needs A "No Regrets" List This Summer — Here's Where You Should Begin
Summer is the season to welcome exciting, new opportunities. It's a season of chapters ending and new ones beginning. It's a time when you allow yourself to get outside, breathe in the fresh air, spread your wings, and fly above the beautiful blooms. Summer is a special season when the possibilities are truly endless. If you're looking for ways to switch things up and get yourself into a new groove, this no regrets list for the summer is the perfect place to start.
Things as thrilling as skydiving and cliff jumping, as relaxing as a spa retreat, or as adventurous as a hot air balloon ride, summer 2019 is here for you to grab by the horns and guide it wherever you want it to be. Some of the things on this list might be a little outside of your comfort zone, so it's totally OK if you want to skip them. But if you're really looking forward to trying new things and making the most of this summer, you should absolutely consider giving these things a try.
I've been the person who has both stayed in with no plans for the entire season, and also gone all-out on my summer adventures. I can safely say that the latter is definitely the way to go. I hope you have the adventure of a lifetime this summer, and that you can use this list as "no regrets" inspo.