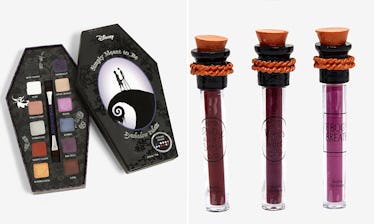 Everything In This 'Nightmare Before Christmas' Makeup Collection Is Scary Good — & Under $15
Courtesy of Hot Topic
I think there will always be a debate about whether The Nightmare Before Christmas is, in fact, a Christmas movie or something you watch in October to get into the Halloween spirit. While we may never know, I don't see anything wrong with getting your fix of holiday cheer and spooky fears at the same damn time, do you? I know Hot Topic doesn't. In fact, the retailer is known for selling TNBC-themed merch all year 'round. But just in time for Halloween (or for you to write a wish list to Sandy Claws), Hot Topic just released this Nightmare Before Christmas makeup collection, and let me tell you, it's so good, it's scary.
Whether you're a fan of the sweet Sally, her true love Jack Skellington, or that super creepy Doctor Finkelstein, there's something in this collection you'll love. From frog's breath potions to items that look like they've been ripped out of the Pumpkin King's wardrobe, Hot Topic also has a selection of other beauty products to bring the Halloween spirit and holiday feels to your beauty routine. And here's where things get really good: You won't find anything in this collection that will cost you over $15. With prices like this, you won't need to steal any Christmas gifts this year, amirite?
Straight out of the iconic Tim Burton film, The Nightmare Before Christmas Sally's Lip Collection ($12, Hot Topic) comes complete with three shades of matte liquid lipstick. And the best part is, they're packaged in cartoon-inspired vials with labels that read "Deadly Night Shade," "Frog's Breath," and "Worm's Wort." With these in your makeup bag, you'd swear you were a character in the movie.
As I'm sure you know, The Nightmare Before Christmas is the ultimate love story, and this Simply Meant To Be Eyeshadow Palette ($14, Hot Topic) drives that idea home. Packed with everything from a deep plum shade named "Moonlight" to a warm burnt red hue called "Sandy Claws" and even a matte white color named "Zero," after Jack Skellington's ghostly dog, this palette is perfect for Tim Burton fans and makeup enthusiasts alike.
Whether you decide to go with the scent of "Worm's Wort" (you know, Doctor Finkelstein's favorite soup), "Deadly Night Shade," or "Frog's Breath," you'll smell as good as Sally's Potion Fragrance Set ($14, hottopic.com) will look on your dresser. Disclaimer: Your friends won't be able to help spritzing themselves every time they come over.
What's this? What's this? I'll tell you what it is: Just a Jack the Pumpkin King Soap On A Rope ($8, Hot Topic) that also smells like pumpkin spice. The scariest thing about this is it's too good to last you until next Halloween.
Jack Skellington knows the importance of looking his best, and this Jack Skellington Bat Hair Bow ($13, Hot Topic) will undoubtedly make you look your best. Not only can you wear this bow in your hair, but it can also double as a pin. In fact, you could even wear it as a bow tie, just like the Skeleton King himself.