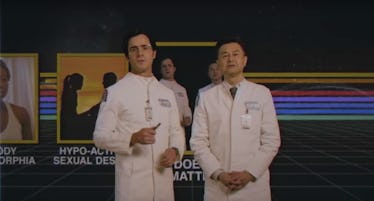 This New 'Maniac' Clip With Justin Theroux Is The Creepiest Thing You'll See Today
Netflix
If you woke up today hoping to see Justin Theroux in a fuzzy '80s-looking informational video dressed as a creepy scientist in oversized glasses, then you're in luck. Netflix's limited series Maniac has been shrouded in plot detail secrecy leading up to its Sept. 21 release date, but now fans can get a healthy glimpse of the mysterious Dr. James K. Mantleray before the premiere. A new Maniac clip with Justin Theroux was just released featuring his character, one of the faces of Neberdine Pharmaceutical and Biotech. Spoiler alert: It's just as weird you were probably expecting.
"We can fix you," Mantleray promises and his white coat-wearing colleagues. Dr. Robert Muramoto (Rome Kanda) also gets introduced in the video, as does Dr. Fujita (Sonoya Mizuna). If you're suffering from anything from "the blues" to anxiety to PTSD, these guys have apparently got a quick fix for that.
"It takes decade for therapy to take a dent. Who has the time?" Mantleray explains unconvinceingly. "The U.L.P. can make you happy in three days. You heard that right. Three days."
"Start your treatment today," the trio of doctors conclude their infomercial pitch. To be honest, I'm more intrigued by the inner workings of Neberdine Pharmaceutical and Biotech than I ever was, albeit I can't help but continue to be skeptical...
Maniac stars Emma Stone and Jonah Hill as two strangers undergoing an experimental pharmaceutical trial. Stone's Annie is an aimless New Yorker dealing with family and relationship issues and Hill's Owen struggles with a "disputed diagnosis of schizophrenia." The 10-episode show is based on a Norweigan series of the same name and is helmed by visionary director Cary Fukanaga (True Detective, Beasts of No Nation). Sally Field and Jemima Kirke are also set to appear in the project.
"He's not so much a villain as a person with different goals than everybody else," executive producer Patrick Summerville explained to Justin Theroux's unnerving Dr. Mantleray, the inventor of supposed cure-all miracle drug U.L.P.
Just don't expect smooth sailing when it comes to Annie and Owen's journeys. "Every patient who goes through the trials has a confrontation with their darkest inner demons," Somerville added. "And they're also headed toward a confrontation with the lab itself."
"It's not therapy. It's science," Dr. Mantleray warns in Maniac's trippy trailer, which debuted on Aug. 6.
"The mind can be solved," he vows. Apparently in order to attempt to solve it, his patients have to go on one heck of a wild ride. Emma and Jonah's characters are seen in various time periods and scenarios throughout the clip, from a Game of Thrones-like crusade to a family kitchen table. It's hard to tell what's where the dreamy state ends and reality begins.
Why did Stone take on the mind-bending concept? The Academy Award winner told Elle:
The thing I liked about Maniac was that it's about people who have their own internal struggles and are trying to fix them with a pill. But you see over the course of the show that human connection and love is really the only thing that gets us through life. I liked that idea, and I love Jonah [Hill]. I had worked with him on the first movie I ever did [Superbad], so it was, like, 11 years later.
Maniac hits Netflix on Friday, Sept. 21.