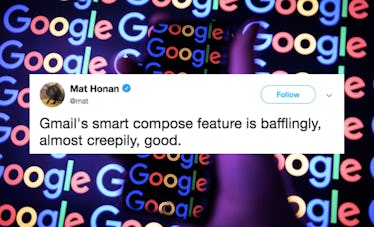 Gmail's New Smart Compose Feature Is So Accurate That It's Freaking People Out
Leon Neal/Getty Images News/Getty Images/Twitter
While you were busy soaking up the sun over the summer, Gmail unveiled a scary-accurate feature that basically writes your emails for you. The tool is called Smart Compose, and it was officially announced by Google in May 2018. However, it seems like tons of people started noticing the new Gmail Smart Compose feature in recent weeks — and most of them are pretty dang impressed. Heck, the feature is so good that some folks are downright creeped out (including myself) by its accuracy. As baffled as I am, though, I have to admit that the feature is really cool. Once I get past its "creepy-good" factor, I'll probably be lost without it.
If you haven't had access to the feature yet, that means you might not be using the updated Gmail that was announced in April 2018. If that's the case, Google suggests going to your "Settings," hitting "Try the new Gmail," and then enabling "experimental access." Once you've done so, you'll be able to use Gmail's Smart Compose feature and understand why the internet is totally losing it over the tool.
In case you're not interested in trying it for yourself, I'll tell you a little bit more about the feature. According to Google, Gmail's Smart Compose uses artificial intelligence to finish the sentences that you're typing in an email. It works as you're typing, using context and patterns to suggest phrases that you can add to your sentences. If you like one of Smart Compose's suggestions, you can add it to your email by hitting the "tab" button.
Yup. Robots are writing emails now, and the future is here.
When you use Smart Compose for the first time, a blue box will appear on the screen next to the sentence you're working on. It'll say, "Writing suggestions save time while drafting and email." (True.) The pop-up will also let you press "Got it" or "Turn off." So, if you'd rather write your own emails without artificial intelligence giving you advice on what to type, you can disable the tool.
Of course, many people who chose to stick with the feature are finding it just as useful as they do baffling. As expected, most of 'em took to Twitter to express their true feelings about Gmail's Smart Compose. (FYI, these tweets might inspire you to give it a try.)
Some people are creeped out because "it's almost always right." I don't particularly think that's a bad thing, though.
As you can see, a lot of Twitter users are using Smart Compose (even if they're totally freaked out by it). If you're one of the people who tried the feature and want to give it a break, you can easily turn it off. In order to do so, open your Gmail and go to your Settings. Once you're there, scroll down until you see "Smart Compose," and check "Writing suggestions off." If you end up missing it once it's gone (which, let's face it, you probably will), you can go to that exact same spot and turn 'em back on.
I don't know about you, but I'm gonna keep mine on. I've gotten over the "creepy" factor, and think Smart Compose is one of the most convenient Gmail features to date.