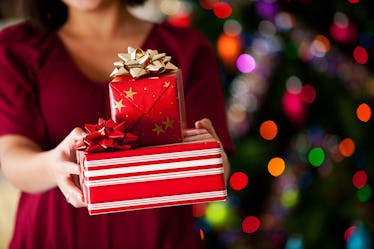 This Mom Accidentally Gave Her Daughter A Very Inappropriate Christmas Present
I'd say that my parents are relatively up-to-date on most of the "hip lingo" as of 2017, but there are definitely certain occasions where I find myself shamefully explaining specific crude terms and slang words to their horrified faces. And while Christmas successfully granted many of our holiday wishes, one girl found herself opening a very NSFW gift from her mother — and honestly, and it's downright hilarious. For all who can relate, this girl's thermos Christmas present shows an inappropriate monogram and it's so freaking funny.
One heavily sought-out item this holiday season was the Yeti Rambler, a vacuum-sealed tumbler that transports and caters to any and all beverage-related wants and needs. Yeti Ramblers come in a variety of pastel and vibrant colors, so it's pretty clear as to why they're so popular. However, while one thoughtful mother decided to personalize her daughter's Yeti with a monogram of her initials, she kind of overlooked the fact that her daughter's monogram spells out something a little awkward, and we're honestly dying at her mistake.
Imagine this: It's Christmas morning, and the entire family is sitting around the tree. Everyone is ready to open their presents, while mom is eagerly awaiting their reactions. Her daughter picks up a mysteriously wrapped present, and opens it to find a highly-desirable Yeti Rambler. But instead of expressing excitement, she is a little perplexed by the gift, because as it turns out, her monogram written on the container spells C-U-M. Although the "U" is most likely the first letter of her last name (as monograms tend to put the last initial in the middle), it's beyond unfortunate and so freaking funny. (FYI, this is just a scenario that might have happened that morning. We're not sure what actually happened when the present was opened.)
Let's be real, though: This daughter (with some really interesting initials) had to have felt beyond awkward to receive this inappropriate, yet heart-felt gift given to her with the best intentions. Her mom probably stood there, earnestly and cluelessly waiting for her daughter's reaction. Although we don't know if her the kids immediately spilled the beans behind the meaning of the monogram, we're guessing it was incredibly humiliating for all parties involved. The brother of the teenage girl, who we'd imagine was in hysterics at the time, posted a photo on Reddit as Snowy_Boy, with a hilariously telling caption. He said,
My sweet innocent mother got my sister a thermos with her initials monogrammed on it for Christmas.
Reactions on Reddit spanned from snarky to sympathetic. Reddit user yuppicide0138 said "If I had a sister with those initials, monogrammed items are the ONLY gifts she's getting from me for life." On the other hand, Reddit user landothedead seemed to feel a little bad about the incident, saying "I can picture the monogrammer: "are you sure that's what you want?" We are literally cringing through our tears right now, but it's pretty fantastic. When their mother was informed of the tumbler's dirty connotation, we'd imagine she was a beyond disturbed.
On a similar note, another girl's mother had bought some elegant throw pillows for her house, which, unfortunately, were not-so-subtly covered in male genitalia. While they appeared to look like flowers, another innocent mom was plagued by the dirty minds of our generation — and now has rather unfortunate home decor. Yikes.
Even though moms sometimes just can't keep up with the times, they usually have the best intentions, putting their kids' best interests first. While Snowy_Boy's mom wasn't planning on getting her daughter an X-Rated Christmas gift, the monogrammed Yeti Rambler was the gift of a lifetime, and the mom with the graphic throw pillows probably had no clue. We also wouldn't be surprised if both moms were later subjected to a mildly uncomfortable modern sex-ed lesson, but they're honestly our heroes.
Check out the entire Gen Why series and other videos on Facebook and the Bustle app across Apple TV, Roku, and Amazon Fire TV.