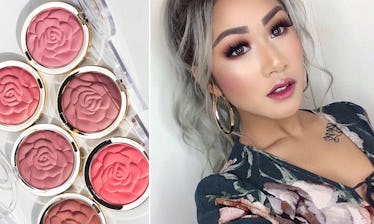 This Rose Blush Has Been Pinned 29,000 Times & It Costs Less Than Your Morning Coffee
Pinterest, Instagram
Pinterest is flooded with photos of over-the-top vanities and extravagant products to boot. And while aspirational photos are nice to look at, most of the images on your Pinterest boards are completely unattainable. However, if you have $6 in your pocket, you can pick up the Milani Rose Powder Blush that has been pinned 29,000 times.
It seems like it wasn't all that long ago when drugstore products had a bad rap. They were the items we picked up when we didn't have time to make a full trip to a department store. I remember being in high school and making last minute plans that required a pit stop at my local CVS, but that was only because I was in a hurry and figured I had no choice but to settle for the "cheap stuff."
I usually bought a single lipstick, mascara, or false lashes, but when I made plans to actually go shopping for makeup, I always headed over to MAC or Sephora. These days, some of my favorite beauty staples (the ones that live in my every-day makeup bag and on my bathroom counter) are from the drugstore. It seems beauty junkies everywhere have come to their senses. A high price tag doesn't automatically mean it will work, and an affordable one doesn't mean it won't. And besides, it's much easier on our wallets.
Clearly, I'm not the only drugstore convert. Affordable beauty products are among the most popular on Pinterest and it's no wonder why the Milani Rose Powder Blush ($6, Target) has been pinned 29,000 times. With the silhouette of a fully-bloomed rose imprinted on the powder, this might be the most photogenic blush I've ever seen at the drugstore. And to make it even more Insta-worthy, the rose-embossed powder is packaged in a gold compact with a clear lid. So whether you've flipped open the lid right before swiping it on your cheeks or have it sitting on the top of your vanity in between uses, this $6 blush looks picture perfect at all times.
And the beauty doesn't stop there. Aside from dressing up your vanity, the Milani Rose Powder Blush does wonders for dressing up your complexion. When applied with a fluffy blush brush, this powder blush imparts a youthful, natural-looking rosy glow. Start at the apples of your cheeks and swipe out toward your temples for the most believable flush. Available in four colors (Romantic Rose, Coral Cove, Blossomtime Rose, and Tea Rose) and matte and shimmery finishes, you won't need to invest in the expensive options any more. Think of how much money you'll save. You work hard for that cash, are you sure you want to blow it all on a single product? I didn't think so.
Romantic Rose
I'm obsessed with pink blushes that have a bit of a taupe-looking undertone. They give me the perfect balance between a contour shade and blush. Swiping it a tad under the apples of my cheeks gives my cheekbones an instant lift while also giving my face some color.
Blossomtime Rose
Packed with a subtle rose gold shimmer, Milani's Blossomtime Rose Powder Blush looks almost identical to Benefit Cosmetics' Box o' Powder Blush in CORALista ($29; Sephora). It gives you the perfect balance between a peachy cheek color and a natural-looking highlight.
Tea Rose
While the bright pink color of this rosy blush might be intimidating to some, you should know all of the Milani Rose Powder Blush shades are buildable. The shade Tea Rose can be worn as a barely-there flush or a full-on pink cheek that even Barbie would be jealous of.
Coral Cove
Another one of my favorite shades to wear is coral. I feel like so many beauty junkies are a intimidated by the bright orange undertones in this blush and while I totally get it, you can't knock it until you try it for yourself. It's especially one of my favorites during summer months. When the temperatures rise, I'm obsessed with swiping the same color on my cheeks, eyes and lips — it gives me a sunny look without being too over-the-top colorful.
If all of that wasn't enough to convince you to spend $6 on a blush (seriously, that's cheaper than your morning coffee), there's the convenience factor. The next time you run out of blush, you don't have to trek all the way down to the mall, you can just hit up your neighborhood drugstore.
If the hardest part is picking a shade, the good news is they're all so flattering on all skin tones and remember, they're all buildable. Besides, if you decide you want them all, treat yo' self — it'll only run you about $24, which is the price of a single shade of some other makeup brands. Not having to spend additional money on gas or schlep all the way downtown is a beautiful thing.