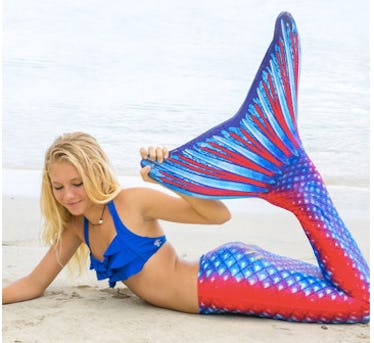 You Can Buy A Mermaid Tail For The Summer & Your Instagram Will Make A Splash
Back in the day, I mostly associated swimming pools with playing Marco Polo, doing handstands, and, most importantly, pretending to be a mermaid. Nowadays, I mostly associate them with lap swim, which I guess makes sense, since that's pretty much all I do anymore. But if you miss the super fun days of pretending to be Ariel or King Trident, being a mermaid isn't just for kids anymore. This mermaid tail for adults literally turns you into a deep-sea goddess, and TBH, I really want one for my birthday (hint hint, cough, cough).
In the swimmable tails section of Fin Fun Mermaid's website, they offer a really wide selection of mermaid tails, in both kid and adult sizes. They come in various bright colors, and some are even limited edition (oooh, ahhh). If you want a matching bikini top or bottom to accompany your tail, you can even add it on to your order before checking out. Snagging a mermaid tail definitely makes for a super fun time by the pool, and IMO, it's well-worth the starting price of $74.95. If you see one that you like when it happens to be available, though, get it while you can — it looks like items in stock tend to sell out pretty quickly.
Some of my fondest summer memories date back to playing mermaids in my childhood BFF's swimming pool; it was seriously the greatest. Diving down deep, having the water rush through my hair, and kicking back my legs literally made me feel like an underwater princess. But now, with an actual mermaid tail, I'll finally be able to feel like the shiny, shimmering deep-sea creature I've always wanted to be.
I mean honestly, how freaking fun does that look?
Under the Mermaid Tail section on the company's website, they explain that mermaid tails are sacred and beautiful, which is why they offer them to both adults and kids alike. Mermaid tails can be worn by anyone, by almost any body of water, and there are so many different styles to choose from. Holla!
The website (righteously) says,
Besides her mythical personality, a mermaid's tail is her pride and joy. That's why Fin Fun has created an amazing line of 100 percent swimmable mermaid tails made with our dazzling, custom-printed fabrics. Each and every mermaid swim tail from Fin Fun is designed to help you traverse the deep seas (or the backyard pool, if that's your style) just like all the most famous magical mermaids. Buy mermaid tails for kids and grown-ups in this selection, with enchanting styles that match the personality of every shimmery swimmer. We've got gorgeous sparkly, scaled mermaid tails plus many other styles to honor your favorite underwater creatures!
Honestly, these are so damn cute, I can't even handle it. The best part is that putting on a mermaid tail is even easier than putting on some kinds of bikinis, seriously. In case you get your mermaid tail and you aren't sure how to put it on, there's a step-by-step video on their website. It seems pretty simple, and I'm sure it'll start coming to you naturally, once you get the hang of it. Check out the video below, if you're interested how to put them on.
OK, let's be real: I've never wanted anything else for my birthday more than I want a mermaid tail. Seriously, how fun does it look? And don't even get me started about where I'll wear it. I'll wear it to the pool, in my bathtub, into the Hudson River, at Coney Island, and maybe even in the Gowanus Canal. I will be New York City's friendly neighborhood mermaid, and it's going to be great. Nobody can stop me now.