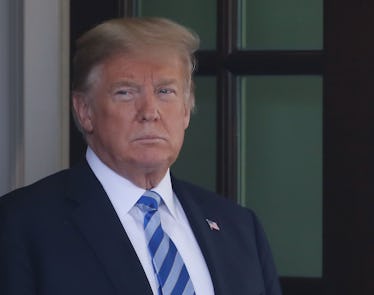 This Meme Replacing Donald Trump With Penguins Is Here To Save Your Day
Mark Wilson/Getty Images News/Getty Images
You know that saying "can't live with it, can't live without it?" Well that's pretty much the Internet for you. It's a jungle of absurdity and just when you think it can't possibly get any weirder, in strolls this meme replacing Donald Trump with penguins. I'm here to tell you that it's as ridiculous as it is perfect, so congratulations on having your day brightened.
What happens when someone on Twitter challenges the Internet to do something? They always come through. That was true when on Thursday, Sept. 6, Armando Iannucci, the man behindVEEP, asked what would happen if you take "footage of Trump in a White House meeting" and swapped out the president for a penguin. Iannucci guessed that everyone else in the room's facial expressions would still fit. He wrote,
Proposal: If you take any piece of footage of Trump in a White House meeting, and replaced Trump with a penguin, the expressions on the faces of everyone else in the room would still work.
Then he enlisted the help of the Internet, "Twitter, let's see what you can do."
As you can imagine, Twitter did not let Iannucci down. In fact, they went above and beyond. Not only did they replace a few Trumps with a few penguins in White House meeting photos, but they found a whole other slew of photos to give the penguin treatment to.
Here's Iannucci's original assignment:
...here's what followed:
Sarah Palin sees no problem here.
A personal favorite of mine is this Kim Kardashian number. Everything seems in order.
What about German Chancellor Angela Merkel? Is this the face she would give to the penguin in the room? Yes, checks out.
Look what happened when Melania Trump, Ivanka Trump, and President Penguin met the Pope.
Collusion with penguins is impossible.
Keep staring at the camera. Whatever you do, don't turn around.
This is a God dream.
ARE YOU HAPPY NOW IANNUCCI?
Is this a Seth Rogen dream?
Looks like someone forgot to do their homework.
Nothing to see here.
Everybody say "cheese."
I mean, it's not every day there's a president, erm, a penguin in the Oval Office.
Some people got a little more creative with the assignment.
Someone had to make the Batman connection, it just had to be done.
March where?
And finally, the day a penguin became the leader of this great nation, which honestly makes you go... yeah, I'd buy it. Seems plausible.
These are just some of my favorites, but I could honestly go on all day. I don't know why the Internet does the things that it does, but sometimes I sure am happy about it.
Twitter, you truly outdid yourselves with this one. Pat yourselves on the back, Internet, you saved the day and provided us all with hours of entertainment (do you want me to pretend that this wasn't my afternoon?) I don't know how Iannucci came up with this, but I don't question genius.