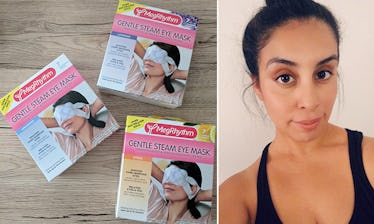 These $7 Steaming Eye Masks Cured My Puffy Allergy Face In 10 Minutes & Woah
Stephanie Montes
I'm coming off a week-long cold and am finally feeling better, when I realize my allergies are acting up. I'm insanely congested, compulsively sneezing, eyes are itchy and my dark circles are no joke. Thankfully, it was a short week — I had a couple of days off, so I've been hiding out. But since it's now time to face the world again, I dug into my bag of beauty tricks to write this MegRhythm Steam Eye Masks review. Even those these warming eye masks have been blowing up on Amazon, I still don't understand what heat can do for my puffy eyes, but I have nothing to lose.
I've always turned to cooler options when tackling my dark circles, but desperate times call for desperate measures. While I usually store eye masks in the fridge and have been known to rub cold spoons on my face, these $11 self-heating masks have really good reviews, so I give them a shot.
The MegRhythm Gentle Steam Eye Mask ($7; Amazon) comes in three scents: Lavender, Citrus, and Unscented. If I were getting ready for bed, I'd try the lavender, but I have a date night with my husband later so I try the citrus scent for an uplifting effect.
I hook the straps around my ears and lay back. The directions say to leave the mask on for 10 minutes, so I check the clock and it says 1:25 p.m. — I don't set an alarm, because I can still see if I open my eyes and look down into my phone — but before I know it, I'm fully sleeping. I wake up at 2 p.m. and can't even remember falling asleep. Although, I have to say, I feel so rested. I don't even have that swollen middle-of-the-day nap face you usually wake up with. So far, it hold up to the claim that it relaxes you.
After:
Before I fell asleep, I remember it getting really warm. As soon as I took it out of the bag, it already began activating. There's no prep work involved either, just open the pack and put the mask on. As I laid back with the mask on, I could feel the warmth, but it never got too hot. However, the box says it reaches up to 114 degrees. I obviously couldn't see if there was actual steam coming off the mask, but it felt pretty steamy around my eyes. Here's probably a good time to mention that it's currently 113 degrees outside my LA house, and I have no air conditioning — the steamy feeling could really just be a coincidence.
Because I'm a curious beauty junkie, I conducted a little science project. To test whether or not the mask actually steams, I placed the mask upside down on a table and positioned a wine glass over one of the eye pads. Get this: The glass fogged up! It really does steam! See below.
So, why is this important? The product description says the self-heating technology releases a warm, gentle steam that helps relieve tension behind the eyes, ideal for those who spend all day in front of a digital device and/or travel frequently. And apparently, it's also perfect for those who suffer from allergies, because the swelling in my eyes went down, and I feel totally rejuvenated. No more itchy eyes and I finally look wide awake.
The brand claims they've sold over 500 million boxes, and it's no wonder why. They're super affordable — $11 buys you a box of seven — and the reviews are crowded with customers singing their praises. With a four-of-five star rating, the steam mask is just what you need this allergy season — but order yours fast, because Amazon can't keep them in stock.