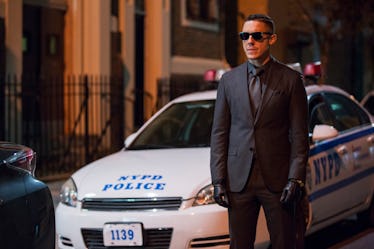 A Main Character Was Killed Off In 'Luke Cage' Season 2 & OMG, I Didn't See That Coming
Netflix
Warning: Spoilers for Luke Cage Season 2 follow. Luke Cage Season 2 certainly had its share of deaths this season. Some were seriously gruesome, like the Bushmaster's beheadings to leave Mariah Stokes a warning. Some were downright horrific, like the Rum Punch Massacre, when Mariah went to Bushmaster's family restaurant and murdered everyone in sight. And some were tragic, like Ridenhour and Comanche, as long-simmering betrayal came to a head. But none held a candle to the final major Luke Cage Season 2 death scene of Mariah Stokes.
Seeing Mariah in prison was a startling moment. The Queen of Harlem finally stuck wearing a boring, neutral jumpsuit, looking small and timid when she was suddenly attacked on her way back to her cell. Without her police guard, it looked like she might not survive her first fight, until Kalinda stepped in with ideas of making Mariah one of her own.
But Mariah belongs to no one, and, without flinching, cons the woman into handing her the shank before murdering her and taking her minions as her own. Even so, there's part of Mariah that's not emotionally ready to be the queen of her prison yard, as she cries to Shades during their final visit.
But any thoughts of Mariah pulling a Wilson Fisk behind bars and controlling things from behind the scenes went out the window after her daughter came to visit. There's a steely look to Tilda now, the face of someone who has seen who she's supposed to become and is slowly coming to accept it.
And yet, it seems like she's also accepted her mother has won on some level. John "Bushmaster" McIver is gone. He collapsed after the final push to kill Mariah at Harlem's Paradise, after not listening to Tilda's advice and injecting himself with all of the drug she'd made for him. He'd done everything to see Mariah Stokes burn, and he'd failed. Tilda still obviously feels guilty, but it's not like she's about to set her mother on fire.
Or is she? The moment Tilda kissed her mother on the mouth, I suddenly wondered about her lipstick and what concoction she'd been making back in her shop.
But Mariah seemed fine, holding court with visitor after visitor, including Luke Cage, who'd come to tell her he'd made a choice to put Harlem in a lockbox himself, and was holding the other gangs at bay. He was now the one standing at the levees, plugging those holes as the water rose around them.
And then, out of nowhere, Mariah coughed up blood.
She knew, too, the moment it began: The lipstick, Tilda, the kiss. Her daughter had done what no man could do: take down Mariah Stokes. Bushmaster would have been proud. Beso de la Arana was the name of the poison, and she has delivered it with the kiss of death, in a way that might make an ancestor or two proud. The poison burned Mariah from the inside.
Meanwhile, Tilda sat in the club, playing on Cornell's keyboard and singing her truth for the first time. Meanwhile, her mother burned. Even Luke could see the irony.
Mariah collapsed to the ground, her suit covered in blood. No one was coming to save her. Luke Cage couldn't help her. But he could be the preacher's son he was taught to be growing up, and stay by her side. The cruelest thing of all would be to die alone, and even Luke didn't think Mariah deserved that. But as she died, Mariah promised they weren't done with each other. She had plans to haunt him from beyond the grave.
Best part? Mariah's death was before her trial. Shades' deal to walk free no longer stood, as it was dependent on her conviction. In death, Mariah took the snitch down with her.