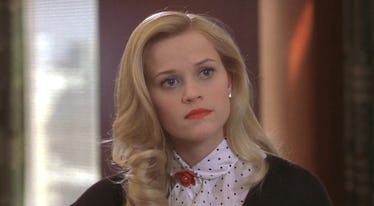 'Legally Blonde' Almost Had A Completely Different Ending & We're So Glad It Didn't
Metro-Goldwyn-Mayer
Legally Blonde has stood the test of time as one of the most beloved and inspirational success stories told on the big screen. The 2001 movie may be billed as a comedy (and it's packed with more than enough jokes to earn that designation), but it's also got a huge heart at its center, which has inspired countless fans to defy stereotypes and chase their dreams. But originally, the movie didn't end with Elle Woods giving her now-iconic graduation speech. Co-writer Karen McCullah told Entertainment Weekly the Legally Blonde alternative ending that was initially in the movie was totally different from Elle's big graduation speech, and we are so glad that they decided to change things up.
As Legally Blonde fans well know, the movie follows happy-go-lucky sorority girl Elle Woods (a career standout role for Reese Witherspoon) as she enrolls in Harvard Law School and proves everyone wrong who writes her off as being a "dumb blonde." In the end, Elle wins the murder trial she has been working on, and we flash forward to her graduating from Harvard and giving an uplifting speech to her fellow classmates and friends, as captions reveal that she is now best friends with her former rival Vivian, her douchebag ex Warner is single and jobless, and her new boyfriend Emmett is about to propose to her.
But originally, Legally Blonde had a less triumphant flash-forward for Elle Woods. Karen McCullah, who co-wrote the movie with Kirsten Smith, recently shared that the original ending had Emmett give Elle a big kiss right after her big courtroom win, and then the flash-forward saw Elle and a now-blonde Vivian working to get their own law firm off the ground.
Originally it ended at the courthouse right after the trial. Everyone was congratulating Elle, and Emmett came up and gave her a big kiss. Then there was a tag where it was a year in the future and she and Vivian, who was now blond, had started the Blonde Legal Defense Fund and they were in the quad handing out pamphlets.
Obviously, this ending does not sound as exciting for Elle Woods as seeing her deliver a powerful graduation speech, and Legally Blonde's test audiences thought so as well. Apparently, viewers at early screenings of the movie were not feeling the original ending, citing that the big kiss with Emmett made it seem like the movie was all about getting the guy instead of Elle making it as a lawyer, and seeing Elle struggling to make it professionally a year later just wasn't a satisfying way to leave things with her.
So right after one of the test screenings, the Legally Blonde creative team came up with the graduation speech ending, and got the main cast back together to film the new closing scene. The result was an ending that the movie, and Elle Woods, truly deserved — an inspiring speech about passion, perseverance, and finding confidence in yourself. Oh, and it still managed to keep the Emmett romance in there, without making it all about him.
It was partially because of this inspiring and satisfying ending that Legally Blonde, and in particular the character of Elle Woods, have gone on to become such fixtures in pop culture. The movie helped launch Reese Witherspoon's career to new heights, led to a sequel and a spinoff, and the story was also turned into a hit Broadway musical.
It is kind of crazy to think about how different Legally Blonde would have been if it kept its original ending, with Elle still a struggling grad student trying to get a legal defense fund off the ground with Vivian. Luckily, we got to see Elle get the ending that she deserved.