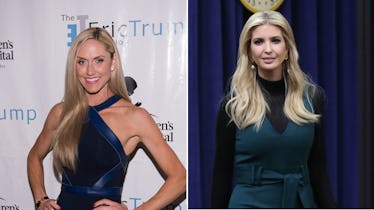 This Old Lara Trump Quote About Ivanka Trump Isn't Exactly The Best Compliment
Mark Wilson/Getty Images News/Getty Images/ Dave Kotinsky/Getty Images Entertainment/Getty Images
The Trump kids have been in the spotlight (well, more than usual) ever since President Donald Trump decided to dip his feet into political waters. Sometimes, though, we forget that some of the Trump kin have partners who married into the first family and now have to deal with that very same spotlight. Back in 2017, Eric Trump's wife Lara Trump was asked about being part of the first family, and this Lara Trump quote about Ivanka Trump isn't exactly the best compliment.
When it came time for Lara to talk about the first daughter in an interview with Hello! magazine in March 2017, she took an interesting route. The president's daughter-in-law decided to compliment Ivanka Trump's "impeccable style." She said,
I certainly try to look my best. I think our first lady, Melania, and my sister-in-law Ivanka have impeccable style. I look to many different women for inspiration but try to make things my own. Each woman is unique and we look our best when we feel confident and comfortable in our own skin.
Sure, it's nice to compliment your sister-in-law on her style, but considering the scope of Trump's public life at the time, being the first daughter and engaged in White House politics as an "informal" adviser to her father, Lara's comment sort of reduced Trump to the clothes she wears, despite her accomplishments. Lara could have complimented Trump on a number of things at the time, the fact that she leaned on the "style" aspect makes it seem like Lara didn't actually have anything better or nicer to say.
Of course, this is probably not Lara trying to throw shade at Trump. Overall it looks like there's good feeling between the sister-in-laws, as evidenced by their appearances on each other's social media accounts and various happy family photos together. It seems like Lara was probably asked about her own style and took the opportunity to compliment her sister-in-law and Melania Trump — who do, admittedly, tend to look fabulous at public events. And yes, it is always nice to get told you have good taste. But come on.
Granted, at the time Trump was not officially an adviser to the president, either. Trump was given the official role on March 29, 2017, according to The New York Times, just a few days after this interview was published. However, Trump's involvement on the political stage and in her father's administration started well before then.
Trump was an active presence on the 2016 campaign trail, often stumping for her father or presenting him as an advocate for women in his race against the first female presidential candidate backed by a major party. In July of that year, she introduced him at the Republican National Convention in Cleveland, Ohio, painting him as an outsider who would get things done. She said,
Real change, the kind we have not seen in decades, is only going to come from outside the system. And it's only going to come from a man who's spent his entire life doing what others said could not be done.
Though her role was initially just "informal," by March 20, the first daughter had already been given an office in the West Wing and was in the process of getting security clearance, despite concerns from ethics experts who worried that Trump's official role in the White House would allow her to avoid ethics and conflict-of-interest rules.
Trump might not be everyone's favorite, and her rise to the top (and into the West Wing) has been tumultuous at best, but she is still a woman who was smart enough to carve out a career for herself, regardless of the road that got her there. But, yes. She does have great style, too.