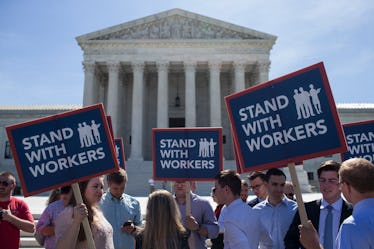 The Supreme Court Made A Major Ruling On Unions, Which Could Impact How You Work
Zach Gibson/Getty Images News/Getty Images
Another predictable 5-4 split at the Supreme Court has people talking — though this is the final decision of the current session. The nation's highest court ruled Wednesday, June 27, that people who work in government jobs and decide to not join a union cannot then be required to pay for costs associated with collective bargaining, a ruling that disempowers labor unions' ability to negotiate for fair wages. This is what the Janus Supreme Court ruling means for millennials, who, as it turns out, are a big fan of unions.
The case originally came from Mark Janus, a child-support specialist for the state of Illinois, who challenged a requirement that government workers who opt out of a union at work still have to pay some dues to help the union pay for the costs of negotiation and other activities. Previous case law on union payments dates back to 1977, when the Supreme Court drew distinctions between different kinds of union dues, separating mandatory "agency fees" from other voluntary union dues, which could be used for political activity, according to NPR.
But Wednesday's decision reversed the 1977 distinction, applying a blanket approach to all union dues, per NPR, and saying that all union negotiations are political activities. Effectively, the decision hinders fundraising capabilities for public unions, which could pose big problems for millennials in the workplace.
"Under Illinois law, public employees are forced to subsidize a union, even if they choose not to join and strongly object to the positions the union takes in collective bargaining and related activities," Justice Samuel Alito wrote in the court's decision, which concluded that requiring payments to unions "violates the free speech rights" of non-union members by forcing them to engage in political activities that they may not support.
Millennials have comprised a lot of recent gains in union representation across the workforce, according to a February 2018 report from The Nation. The millennial union workforce grew by 198,000 in 2017, which offset a drop in older workers in the same period (workers age 45 to 54 dropped by some 75,000 in 2017). Moreover, according to a 2017 report from the Economic Policy Institute (EPI), the value of unionization can be critical to workers' rights — especially for women and people of color. As of 2016, the report states, roughly 10.6 million of the 16.3 million workers covered by a union contract are women and/or people of color.
That's a massive chunk of the working population to be affected by this new fundraising quandary. As the EPI report simply states, unions exist to provide "working people who are not executives or company owners with an opportunity to get their voices heard in policy debates that shape their lives." Just the same as managers, business owners, and CEOs organize to advocate for their economic interests.
The EPI report draws a direct line between the rise of labor unions and faster and fairer economic growth, stating that unions give a larger wage boost to low- and middle-wage jobs, rather than to high-jobs. The report states,
The union wage boost is largest for low-wage workers and larger at the middle than at the highest wage levels, larger for black and Hispanic workers than for white workers, and larger for those with lower levels of education — wage increases for these groups help narrow wage inequalities.
Basically, the Supreme Court's ruling can make it harder for unions to make those gains.
Unsurprisingly, Democrats and Republicans in Congress decried and praised the decision, respectively.
"Our country's success depends on the right of all workers — including teachers, firefighters, peace officers and nurses — to collectively negotiate fair wages, benefits and protections," says Sen. Kamala Harris in a statement obtained by Elite Daily. "The Court's decision today undermines the basic American premise, held up by courts for more than four decades, that if a union represents all employees in negotiating and administering a collective bargaining agreement, then all employees ought to share the costs of that representation."
President Donald Trump, meanwhile, tweeted about the decision, using it to diss the Democrats.
"Supreme Court rules in favor of non-union workers who are now, as an example, able to support a candidate of his or her choice without having those who control the Union deciding for them. Big loss for the coffers of the Democrats!" Trump tweeted.
With this decision, Trump-appointee Neil Gorsuch has just finished his first Supreme Court session — having yielded conservative victories one after the other along that 5-4 split.
Several nonprofits who deal with workers' rights weighed in on the decision, and painted a grim picture for what is to come under the new provision for labor unions.
Chicago-based Action Center on Race and the Economy released the following statement, obtained by Elite Daily,
This decision by the Supreme Court will have deep repercussions for people of color across America for years to come. Unions have long been one of the only paths towards financial stability for our communities, ensuring affordable healthcare access, protecting our ability to retire free from debt, and providing economic security for working families. This is racialized capitalism at its worst. Today's decision makes it clear that those who don't believe in economic justice will stop at nothing to rob our communities of tools they need to advance economic mobility.
EMILY's List, a national resource for women in politics, called the decision "devastating" to workers.
"This Supreme Court decision simply backs up the real Republican view of the working class," Stephanie Schriock, president of EMILY's List, said in a statement obtained by Elite Daily. "They don't care about workers. They don't care about families. They care about putting even more money in the pockets of billionaire corporate executives and dismantling workers' rights."
With ideologically-split decisions such as this, the goodness or badness of the effects tend to get muddied — especially under the current administration. One thing about the decision that is certain, is that it will have a deleterious effect on public labor unions. There are avenues to support unions in place — and they will need more supporting. Hopefully, the public awareness of these issues will be heightened given the attention paid to the Trump administration's activities.