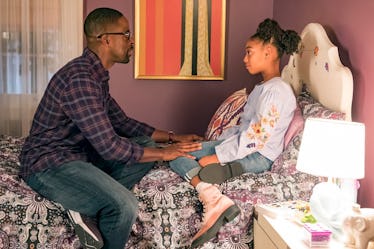 Chrissy Metz Warns What Happens With Randall & Tess On 'This Is Us' Is "Heartbreaking"
Ron Batzdorff/NBC
We're just about a month into our far too long This Is Us hiatus, but that hasn't stopped the cast from fueling even the slightest speculation about the Season 2 finale's troubling flashforward scene between Randall and Tess. Future Randall telling a grown Tess, "it's time to go see her" prompted her response of "I'm not ready." Randall admitted that he wasn't either, prompting fans' guesses of the conversation being about Beth, Deja, or even Annie. Chrissy Metz has now confirmed that, no matter what, their situation won't be pretty, and her This Is Us Season 3 spoilers about Tess and Randall will only make fans more nervous for the show's return.
The cast apparently knows who the "her" in the unsettling conversation is, but Metz danced around the person's identity as much as she could when speaking to Entertainment Weekly:
It's somebody you'd...nobody...it's not good...It's actually very heartbreaking.
Not good? Well, maybe all of those far-fetched theories about Deja hurting Beth aren't so crazy after all.
Out of all of the hints we received about the Big Three's near and distant future, Randall's moment with Tess was definitely the most ominous, in addition to being the furthest away from the present-day timeline. Fans saw Kevin in a relatively peaceful situation, cozying up to Beth's cousin Zoey on a flight to Vietnam. While it didn't inspire as many theories as Randall's moment did, Kate's future issue of dealing with Toby's returning depression suggested that she won't necessarily begin married life feeling blissfully happy.
At the moment, only Randall has been seen in the show's future timeline, which may mean that Mandy Moore's Rebecca has already passed away by that point in time. However, Metz hasn't ruled out her own opportunity to sit in the makeup chair for an aged look. She hinted that seeing Kate alongside old Randall in Season 3 may be possible:
Oh, I hope so! There hasn't been much mention of aging up. I feel like Kate's on the path of nurturing — not like as a therapist or doing music therapy, but I feel like she has a lot of love to give, so I don't know how that's going to be pointed.
Also speaking to EW soon after the finale aired, This Is Us producer Elizabeth Berger emphasized just how secretive the cast and crew is acting toward the meaning of Randall and Tess's conversation:
I cannot even reveal if it was a fight they were speaking about. I don't want to say anything about it, because I think we're going to a really interesting and surprising place… Anything is possible... We're definitely going to continue to track Tess and Randall and what's going on with them, but we do hope to eventually open up the [future] world a bit, and you may see hints of what's going on with other people too.
Of course, despite the huge temptation to just figure out every last detail about Randall's future, Season 3 of This Is Us will also focus on the nearer future of the family. We don't know how Kevin and Zoey's relationship will progress to the point of them traveling to Vietnam together, but it undoubtedly involves Kevin retracing Jack's own path as a soldier in the Vietnam War and perhaps uncovering the truth about Jack's brother's fate overseas. We'll also be waiting for an explanation of what exactly causes Toby's depression to reemerge at full force.
Season 3 also reportedly plans to expand Rebecca and Miguel's storyline, including the immediate aftermath of their Facebook messages circa 2008 and why they lost touch so soon after Jack's death. Speaking to CinemaBlend, Jon Huertas, aka Miguel, revealed:
In the next season, we really open it up. There are still some people that still need some convincing... We'll get more into Kate and Randall reacting to the news of Rebecca and Miguel hanging out again. Next season I think we'll see more of that.
I hope Season 3 makes like a Band-Aid and delivers the truth about Tess and Randall ASAP, but would it even be This Is Us without the show drawing out our emotions as much as possible?
This Is Us Season 3 premieres this fall on NBC.