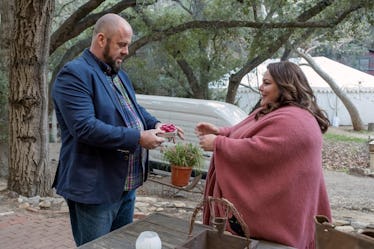 Chrissy Metz Opened Up About What Lies Ahead For Kate & Toby In 'This Is Us' Season 3
Ron Batzdorff/NBC
The seemingly innocent Season 2 finale of This Is Us quickly shifted directions when it delivered a flash-forward scene of Toby seemingly in the bouts of depression. While Toby was lying in bed listlessly, Kate was seen trying to comfort him, and we were abruptly cut off from any further glimpses of the couple's future. It's been a few weeks since the finale aired and I'm still recovering from this hint of what comes, but we now have some clues about how Kate will deal with Toby's struggles. This Is Us Season 3 Kate and Toby spoilers are here, and they're definitely a little concerning.
"The Wedding" brought back mentions of Toby's suicidal past and how he experienced depression following the breakdown of his first marriage. While helping him prepare for the wedding ceremony, his parents voiced concerns that Kate's apparent neediness would only trigger Toby's old mindsets. Toby protested against their worries, insisting that the their relationship was in good shape. Once fans saw the ominous flash-forward later on, they wondered if the conversation was actually foreshadowing Toby desperately needing Kate in Season 3 rather than the other way around.
Speaking to Entertainment Weekly, Chrissy Metz put the couple's future into perspective, reminding fans how Kate and Toby were still recovering from their miscarriage trauma at the time of their wedding and could face baby-related difficulties in the future:
Having a baby is something that is life-changing, and two people just want to hope that they can have a baby. Whose fault is that? Maybe there's something going on physically with Toby too? Who knows? Those things might not have been talked about or addressed because we keep our secrets and we're ashamed of them.
As the Season 2 timeline crept up to and addressed the 20th anniversary of Jack's death, Toby stepped up to the plate in dealing with Kate's emotions regarding the losses of both Jack and her pregnancy. Like anybody trying to comfort a loved one, Toby sometimes struggled in knowing what to do, but he excelled in being a supportive partner. Once the finale aired, several fans appreciative of the pair's relationship were worried about what the flash-forward meant for their future:
According to Metz, Season 3 could introduce Kate having to majorly support Toby in his time of need:
It's important to note that in relationships, there's always somebody that might be a little stronger at one time, and then that dynamic switches. He's helped Kate get through so much of her stuff that she's really ready to show up for him, and while it might be difficult, it's going to be necessary because they're going to contend with some hardships. Yet again. Life on life's terms.
Before you start to weep about Toby and Kate's marriage crumbling, rest assured: the actors still have plenty of faith in the relationship, and I'd like to believe that This Is Us writers wouldn't be so cruel to completely destroy such a beloved bond. Metz said about the pair's marriage in Season 3:
I think it's good. They're the two people who they can truly be honest with. They've come through so much together that they're strong and they're honest with one another. But it doesn't mean there aren't challenges and they don't need each other to help each other out.
Thankfully, it looks like KaToby will make it through those hardships, and I refuse to believe that anyone who admired Jack's love for Rebecca so much would give up on a marriage so easily. Kate and Toby may stick with each other through thick and thin, but Season 3 sounds like it'll be quite the bumpy road for them.
Season 3 of This Is Us returns to NBC this fall.