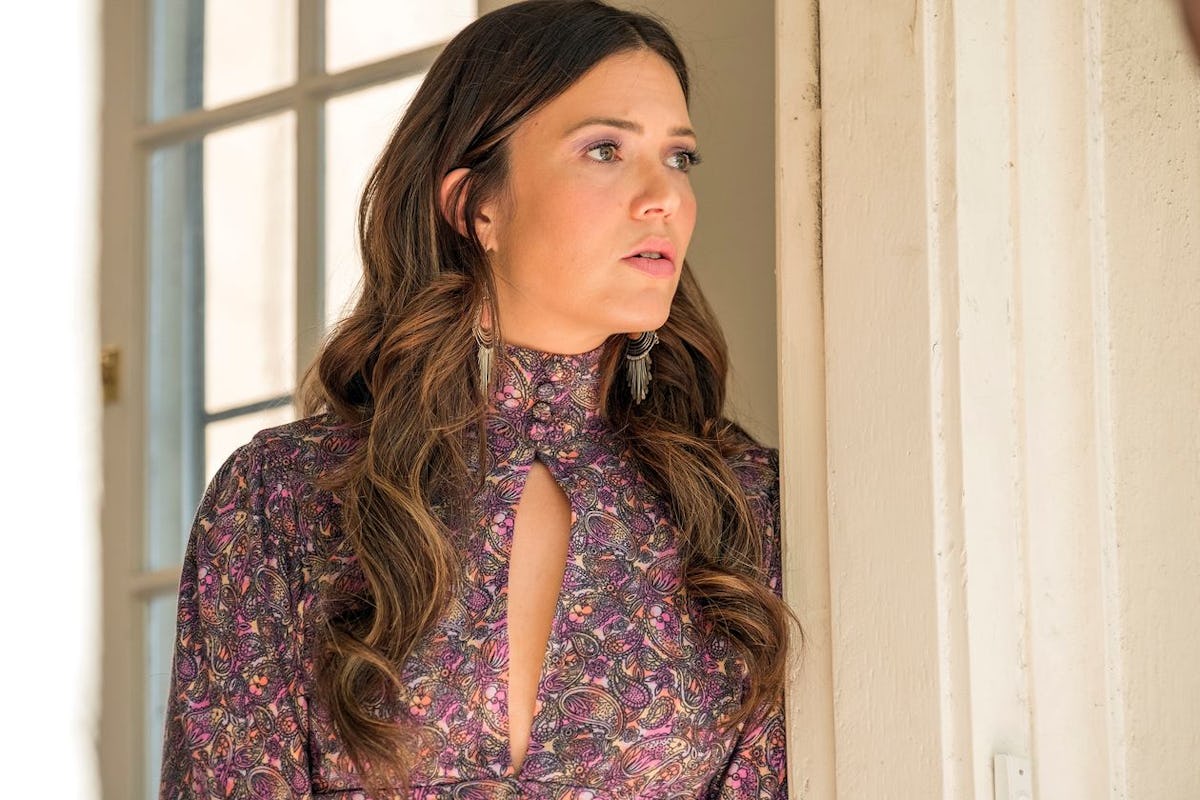 Rebecca's Mystery Man Will Be Revealed In Tonight's Big 'This Is Us' Episode
Ron Batzdorff/NBC
Despite how the Season 3 premiere of This Is Us ended, fans obviously knew that the mustached man who appeared at Rebecca's door after her first date with Jack wouldn't be too much of a threat to the couple's future relationship. Even though he may have looked cozy with Rebecca, viewers shouldn't worry too much about the unexpected visitor. This Is Us Season 3 Episode 3 will unveil Rebecca's mystery man to calm our nerves about him getting in the way of Jack's pursuit of his future wife, so what can we expect to learn about him?
In the Oct. 9 episode "Katie Girls," Jack and Rebecca's 1972 timeline will pick up from where we left them in the premiere "Nine Bucks." Rebecca answered her door the morning after her first date with Jack to find the mystery man (Hunter Parrish) equipped with flowers and a smile. Caught off guard, Rebecca let him kiss her and follow her into the house, but unbeknownst to her, Jack was watching from his car, where he was planning to return her jacket that she "accidentally" left behind.
The past two years of this show have assured us that Parrish's character probably isn't around for long, but the reveal of who he is and how he relates to Rebecca is expected to provide important background about her life before Jack. In the Season 1 finale "Moonshadow," Rebecca was introduced in the 1970s as an independent singer-songwriter who didn't really have a desire to find love, and we know from brief flashbacks and a visit from her mother in the 1980s that she came from a slightly reserved and conservative family. Speaking to Entertainment Weekly, executive producer Isaac Aptaker revealed:
[We will take a] deep dive into Rebecca's past, which is exciting because we haven't spent much time with Rebecca pre-Jack. We're going to learn that whole story of who this dude was who thought it would be a good idea to buy a bouquet and show up at Rebecca's door and try to kiss her the night after her not-so-perfect first date with Jack… She's still kind of reeling from that and then someone she was not expecting shows up at her door.
Executive producer Elizabeth Berger also pointed out that the two are on close enough terms for them to exchange a kiss, which also puts Rebecca's dating history into consideration. In "Moonshadow," she ditched a blind date to sing at the bar that Jack was planning to rob, prompting their first meeting. It's been awhile since we saw the poor guy Rebecca left behind in favor of singing, but the producers' hints seem to confirm that we don't have to dig up that "Moonshadow" scene to confirm that Mystery Man isn't the abandoned date. So who can he be if Rebecca was seeing other men literally the night before?
While the episode's present-day storyline will explore Kate's IVF decision and her controversial comment about passing on a piece of Jack, creator Dan Fogelman has also promised a sweet moment between Rebecca and Jack, telling EW, "There's a scene in it that I love so much. I find it so wildly romantic." Oh, boy, get those tissues ready.
Season 3 of This Is Us continues on Tuesday, Oct. 9, at 9 p.m. ET on NBC.