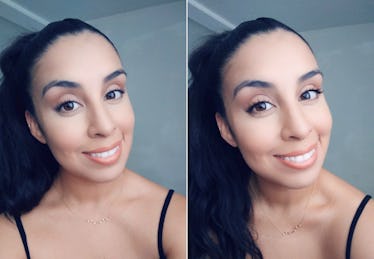 I Tried Glossier's New Lash Slick Mascara A Week Early & I'm Already Hooked On This Formula
Stephanie Montes
I get a ton of beauty products in the mail, and though I'll never become too jaded to get excited over every package, Glossier gives me that Christmas-morning feeling every time. When I see that pink "G" in my mail, I can't wait to tear it open and see what's inside (mostly because I only get mailers from them when it's something brand new). Just as I do with all my Glossier mail, I tear it open, but this time I find a mascara inside the signature pink bubble pouch. I can't wait to do a Glossier Lash Slick review, but I have to keep it a secret. I got the brand's first and only mascara about a week ago, and it's finally available today. Here's what you can expect if you're lucky enough to get your hands on the new launch.
According to the brand, it took 248 tests to finally create the perfect formulation. Just as all the other products in their makeup line, the Lash Slick Mascara ($16, glossier.com) is perfect for every-day use. It lifts, curls, lengthens and enhances the look of your natural lashes without clumping. It's even loaded with microscopic fibers (Glossier even traveled to Tokyo to get the scoop on this Japanese Fiber Technology. That's commitment!) that extend your lashes and make them longer instantly.
And the magic doesn't stop there. The formula creates a film on your individual lashes that holds them in place all day like an extra-strength hair gel. The film-form formula also makes it water-resistant — though not waterproof. Basically, you can sweat, but not go swimming in it. It's also packed with vegan biotin (though the entire mascara formulation isn't entirely vegan), which conditions and strengthens lashes over time. Needless to say, I can't wait to crack into this for the first time.
Before:
I curl my lashes before I apply the new mascara (but that's just my personal ritual). The first thing I notice when I open the tube is the stiff plastic brush. I like these kind of bristles because they comb through your lashes like butter. When I apply for the first time, it really grips combs through my lashes. The second thing I notice is how dark the formula is — it's really making my lashes pop.
Side-by-side:
The Glossier Lash Slick mascara is definitely making my eyes pop. It's not as dramatic as some of my other mascaras, but that's just Glossier's overall aesthetic. They've done a fantastic job at mastering products that create an easy no-makeup makeup look with minimal effort, and this mascara is just an extension to their successful range.
After:
But on the other hand, it's not like my lashes look completely bare — there's certainly an improvement from my before photo. My eyes have that sparkle in them that only a really good mascara can give me.
The best part is the feel of the formula. Hours later, it doesn't feel dry or flaky and my eyes don't feel heavy or irritated. I literally can't feel it on my lashes. Here might be a good time to mention the Glossier Lash Slick ($16; Glossier) is cruelty free, paraben free, fragrance free, hypoallergenic, allergy tested, dermatologist tested, ophthalmologist tested. No wonder!
All in all, it's a really good mascara — one that I will surely keep on repeat this summer. However, if you're into that va-va-voom volume that's only rivaled by falsies, this might not be the product for you. But if you live and breath that one-and-done, "I woke up like this" aesthetic of barely-there makeup (in which case, you probably already own everything from Glossier's product lineup), stock up on their new Lash Slick immediately.