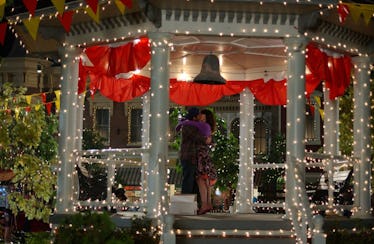 These 'Gilmore Girls' Fans Got Engaged In The Iconic Stars Hollow Gazebo
Warner Bros/Netflix
She's gonna be a Sadie! If those words mean anything at all to you, you're probably going to like this adorable news. A Gilmore Girls gazebo proposal went down last week for a very happy superfan of the beloved series. California's Molly Larimer said "yes" to her boyfriend Sebastian when he decided to pop the question at an iconic television location — Stars Hollow's gazebo from Gilmore Girls. OK, it's not actually in the idyllic small Connecticut town because that's a totally fictional place. The engagement took place while the couple toured the Warner Bros. lot in Los Angeles.
"So I didn't even mention it but Gilmore Girls has always been one of my favorite shows and Sebastian planned the perfect proposal and actually proposed in the actual Stars Hollow gazebo!! I'm so lucky and so happy to spend forever with him," Molly gushed via Twitter on Aug. 5.
Um, Sebastian sounds like a keeper. As a longtime Gilmore fan, it's hard to think of a TV show setting quite as romantic as Stars Hallow's historic gazebo. The wall that Pacey creates for Joey in Dawson's Creek comes to mind, but that seems a little hard to pull off/specific to their particular situation.
Gilmore Girls is known for its whimsy and unique brand of quirky charm and the gazebo is the perfect visual representation of the show's magic. Now if only Molly could get married at Emily's mansion, HepAlien could play their reception, and Sookie could cater...
"We got to the Stars Hollow area and our tour guide had everyone get out of the tram and go walk toward the gazebo. We got up to it, and the guide asked us all if there were any big Gilmore Girls fans in the group, and my fiancé and I both raised our hands. Then the guide asked us to go onto the gazebo to do an 'improv scene,'" Molly explained to Mashable. "When we got up onto the gazebo, Sebastian told me that we were there for another reason, and he got down on one knee."
Gilmore Girls premiered on the WB back in 2000 and ran for seven seasons until its 2007 finale. The pop culture phenomenon received the Netflix revival treatment in 2016 with Gilmore Girls: A Year in the Life, a four-part series that followed the characters through the seasons over the course of one year. When the show concluded with a mega cliffhanger, fans were left chomping at the bit for more episodes. Will there be a follow-up?
"We haven't discussed it at all," Netflix's VP of Original Content Cindy Holland stated last month at the Television Critics Association press tour. "But [creator Amy Sherman-Palladino] knows that we are very big fans of Gilmore Girls."
"I don't rule anything in my life out. When people were talking about a Gilmore movie [after the original series ended] I was always like, 'That's not going to happen.' But I wasn't going to say no. Because… why say no to anything?" Sherman-Palladino (who also created Amazon's Emmy-nominated The Marvelous Mrs. Maisel) told TVLine in 2016 when asked if she would rule out more Gilmore.
While Sherman-Palladino's adage is "leave them wanting more," it was previously reported in March of 2017 that "very preliminary" talks about continuing Gilmore Girls were taking place.
The fate of Gilmore Girls might be unknown at the moment, but at least one fan of the show is getting their very own happy ending. Congrats, you two!