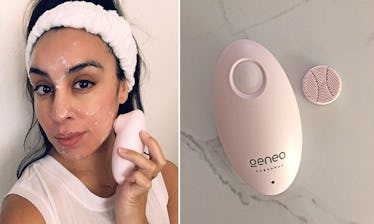 I Tried The Geneo Personal Facial Cleansing Device & It Was Just As Good As A Celebrity Facial
Stephanie Montes
I'm all about skincare. I geek out over new ingredients, I live for facials, and I constantly swap tips and product recommendations with friends. But if there's one thing that can take me to the next level, it's a skincare device. Trust me, I've tried everything from rotating facial cleansing brushes to at-home microdermabrasion machines and microcurrent devices. So when I got the opportunity to do my own Geneo Personal review, I jumped at it.
Here's the deal with this all-in-one skincare device. It was pitched to me as a "the clinical-grade device created by science-based skincare company, Pollogen LTD, that will give you that natural, selfie-ready skin."
I mean, they had me at selfie-ready skin, but then I read, "Geneo isn't a cleanser or an exfoliator - it's an oxygenator!" If I know anything about oxygenators, it's from a few in-spa facials that I've gotten over the years. Celebrities love getting these because they give your skin a serious glow, but as you've probably guessed, these facials can cost you a pretty penny.
So here's the lowdown: The Geneo is a device that draws oxygen out from beneath the surface of your skin, leaving it brighter-looking and oh-so-dewy — the same as you would expect from a celebrity-approved facial — without an appointment and without even having to leave your house.
When I received the Geneo Personal Facial Device Kit ($119; indiegogo.com), I couldn't help but notice how compact it is. The spa versions are usually a huge machine that plugs into the wall and has multiple buttons, water tanks, and arms coming out of the sides. This one, however, is a sleek (and actually pretty cute!) egg-shaped device that fits in the palm of your hand. It comes with a USB-powered charging doc, which means you can use it without getting tangled up in cords.
Just like the giant in-spa machines, this one has multiple functions. First, I popped on the silicone cleansing brush head and used it with my favorite cleanser. Once I powered it on, the Geneo vibrated to loosen all the dirt, makeup, and oil built up in my pores — but the best part was, it gave me a relaxing massage in the process. I rinsed my face, and already, I felt brighter and cleaner. But that's not the whole process. At this point, I removed the brush head (it just pops off) and moved onto the oxygenating treatment.
Once I removed the brush head, I noticed there was a small round hole in the device that works as a pocket to hold a single-use capsule. This capsule, paired with a gel that I spread all over my face, is supposed to create micro-bubbles that infuse oxygen into the skin — this is what gives you that back-from-the-spa glow.
I turned on the device (again it vibrated) and rubbed it around my entire face in small circles. Soon, a small lather began to form (see photo below). Although I was only expecting an abundance of suds, I could feel something else happening. The more I rubbed it on my face, the more the capsule began to dissolve. It's made up of a powder and compressed into a chalky pill. As it melted, it became a bit abrasive, which actually gave me a good exfoliation at the same time.
After rubbing the device around on my face for a bit, I washed my face and pat it dry. Next, I applied the moisturizer included in the kit, and the process was finished.
To be totally honest, I'm more impressed than I could've expected. After using the device, I noticed my skin felt softer and appeared brighter; plus, it was left dewy and totally glowing.
The directions say it's best to use the oxygen treatment once per week. Considering this was just my initial impression after one use, I can only imagine what my face will look like after multiple uses.