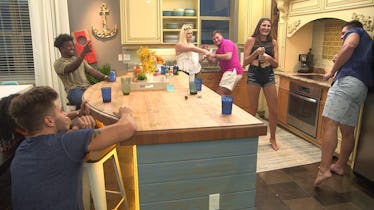 This Exclusive MTV 'Floribama Shore' Season 2 Clip Will Put You In Full Summer Party Mode
MTV
The first season of Jersey Shore Family Vacation may finish soon, but we luckily have Season 2 of MTV's surprise hit Floribama Shore to enjoy for the rest of the summer. The eccentric gang of beach bums returns to Panama City Beach for more partying, lounging, and drama in new episodes beginning on Monday, July 9. If that knowledge alone isn't enough to get you excited, this Floribama Shore Season 2 clip will have you ready to hit the beach ASAP.
After it premiered last fall, Floribama Shore won over viewers who wanted the unadulterated messiness of Jersey Shore without the reminder that those original guidos and guidettes are actual adults with real responsibilities now. On their show, Jeremiah Buoni, Codi Butts, Kortni Gibson, Aimee Hall, Kirk Medas, Nilsa Prowant, Candace Rice, and Gus Smyrnios struck that perfect, watchable balance between brawling and cuddling with fellow housemates. The fact that they're all returning for Season 2 is a great sign of how much MTV enjoys their chemistry, which was a key factor in the same Jersey Shore cast returning for more seasons.
With all eight stars in their early 20s, their relationship troubles and partying mishaps delivered a hit for MTV, who renewed the series right before its Season 1 finale aired in January. This cast may not have the star quality of Jersey Shore just yet, but watching them party on the beach in this exclusive clip convinces me that it's only a matter of time before they're true reality royalty. After all, who can resist a show when its promo plays along to "Sweet Home Floribama"?
While the preview doesn't tease out any upcoming Season 2 shenanigans, it does feature a beach cookout with the essential Jesus candle and the appropriate saying, "Good food, good meat, good God, let's eat." The clip closes with the cast playing around with sparklers at the shore, which is honestly my vision of an ideal summer night. Can I come crash the filming of next season?
When we last saw the group at the Gulf Coast, their parents visited the beach house to celebrate the end of summer (and likely check in about the validity of this weird TV series their child was filming). Inserting the families into the show's often raucous environment introduced a sweet sentimentality to the finale, which also provided insight into what the special summer meant for the cast.
According to that finale, Gus has kept busy modeling for romance covers, while Jeremiah has slowly left his homeschooled bubble of security. Most importantly, fan favorite Kortni even moved out of her parents' house, so I'm expecting plenty of riffs from her in Season 2 about the art of living on your own.
We may have a few more weeks to go until the new episodes begin, but the cast is already hanging out in anticipation of the show's return. The group hit New York City on a press tour, sharing plenty of photos from their sightseeing and, proving that they're relatable AF, documenting their struggle to read a map. Same, guys, same.
In a recent cast interview with AOL Build, Jeremiah hinted about how the group's dynamic will change in Season 2, saying:
I feel [that in] Season 2, you'll really see with us how we grow to appreciate each other and what we actually bring to the table as far as, like, whether's it my dumb dad jokes or Codi's dressing like Easter Sunday. Whatever that case is, we've come to appreciate each other for that, because it's the little quirky things that make us friends to begin with. We always say we may be weirdos, but we are each other's weirdos.
With that promise of friendship in mind, I'll definitely enjoy jumping from Jersey Shore to Floribama Shore later this summer.
Season 2 of Floribama Shore premieres on Monday, July 9, at 10 p.m. ET on MTV.