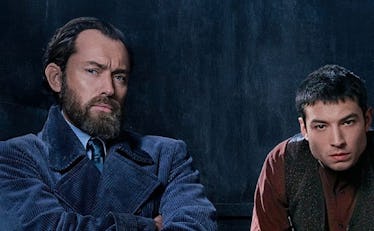 This 'Fantastic Beasts' Theory About Credence Might Explain Who Aurelius Really Is
Warner Brothers
Ever since the big reveal at the end of Fantastic Beasts: The Crimes of Grindelwald, fans have been trying to find an explanation for Aurelius Dumbledore. If what Grindelwald says about Credence Barebone's identity is true, the timeline as fans have understood it for decades is incorrect. This could be a possibility, as many of the dates in question are surmised via secondary data, not hard facts. But now, there's a new Fantastic Beasts theory about Credence and his identity that would work for the timeline as fans understand it.
According to Grindelwald, Credence is a Dumbledore. This is backed up by the phoenix, which adopts him after the elf who was his nanny was killed. Phoenixes come to Dumbledore family members in their hour of need, and Credence really needed someone. It makes sense. Credence is a Dumbledore, and his name is Aurelius.
But then Grindelwald calls him Albus' brother. This doesn't make sense. Dumbledore's father was sent to Azkaban in the late 1880s. Dumbledore's mother, if fans have the dates worked out correctly, died in 1898. The baby was sent across the ocean to America in 1900 or 1901. He would have been a toddler by this point, not an infant. (Mini-humans grow at alarming rates in the first few years, both for muggles and for wizards.)
For Aurelius Dumbledore to be an infant during the passage to America, he would have had to have been born after the three-way duel with Grindelwald, Albus, and Aberforth, which occurred at the end of the summer of 1899. Some fans have guessed Aurelius is a half-brother, born in Azkaban to Albus' father and one of several candidates.
But my first instinct on hearing Grindelwald say "brother" was to ask, "Is Aurelius really Aberforth's son?" But Aberforth is still a kid, all of 16 at the time of duel. He could have had a kid with a young witch, but teenage pregnancies aren't really J.K. Rowling's style. And besides, why would Aberforth send his own son away?
This is where the new theory comes in. The thing fans can't get past is how much younger Credence is to Albus. He's young enough to be Albus' own son.
So why couldn't he be Albus' son?
Aurelius being Albus's son makes sense in the timeline. It also ties into Albus' sexuality, an angle the films have mostly avoided. What if Albus was seeing someone that summer, someone Grindelwald and Aberforth knew about, in a desperate move to show he was straight?
After the three-way duel, Albus basically runs away, ashamed and grieving over his actions. If this witch then turns up looking for the father of her unborn child, now there is a baby Aberforth would have a very good reason to smuggle across the pond to America. It's the kind of gossip Albus could keep himself insulated from ever hearing, but would be loud enough that Grindelwald could put two and two together.
And unlike everything else, it would match up with the timeline.
Fans will have to wait for answers to be given in Fantastic Beasts 3, coming in 2020.