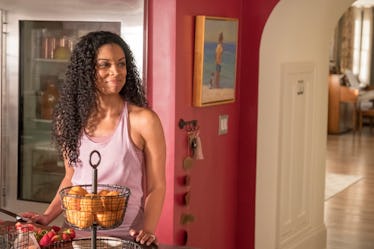 This Detail On The 'This Is Us' Season 3 Poster Has Fans Theorizing About Beth
Ron Batzdorff/NBC
Our "Jack goes back for the dog" theories for This Is Us are proven and published, despite many fans once being reluctant to believe in the idea's obvious and easy storytelling. The latest fan theory to gain steam is that Beth is the "her" Randall and Tess are struggling to visit in the future, likely sentenced to a hospital bed with a deadly disease. Producers have assured that Beth isn't dying anytime soon, but this detail on the This Is Us Season 3 poster has only fueled more suspicion about Beth's well-being this year.
Ahead of the premiere of the show's third season on Sept. 25, renowned photographer Annie Leibovitz shot the This Is Us adult cast for dramatic, autumn-toned promotional photos. Several different photographs from the shoot have made it to the cast's social media pages, specifically one featuring everyone but Mandy Moore as Rebecca and Justin Hartley as a particularly mopey-looking Kevin looking at the camera. However, the photo that NBC has chosen to use for This Is Us advertisements has appealed to viewers in the "Beth is dying" camp. Can you guess why?
Positioned in front of golden autumn leaves, the Pearsons are gathered together in the photo but very much in their own worlds. Kevin, Toby, and Kate are all looking off-camera, while Rebecca is lost in her cuddle with a seemingly '90s-era Jack (we get it, girl). Jack stares down the camera, while Randall and Beth appear to both look in the same direction as him. But eagle-eyed This Is Us fans on Reddit believe that Randall is actually glancing slightly above the camera, singling out Beth and Jack as the only characters with direct eye contact.
Standing in the center of the shot as the family patriarch, Jack and his death were an emotional highlight of Season 2, so it's a little off-putting for another character, especially one he never met, to join him in the dramatic staredown. We should remember that Leibovitz took several different photos and that she or a colleague was likely this shoot's creative director rather than This Is Us creator Dan Fogelman. Perhaps she had no insight into metaphorical clues her direction might have unintentionally caused, but that hasn't stopped fans from believing that this stylistic choice is a sign about Beth in Season 3.
Reddit user ah_rosencrantz wrote about the photo:
Only Jack and Beth are looking directly at the camera. Randall is looking just above the camera... My theory is that Beth is the "her" that will have died by the time of the flashback in the Season 2 finale, putting Tess, Annie, and Deja in the role of the Big Three dealing with the loss of a parent.
Given the This Is Us creative team's insistence that Beth won't die, other viewers have suggested on the Reddit thread that Beth develops early-onset Alzheimer's, as Season 2 emphasized that she was the "head" of her relationship with Randall. This would explain both Randall and Tess's hesitation about visiting Beth in the future, but don't rule out Deja or an extremely elderly Rebecca being the "her" just yet.
As for other clues fans have picked out from the ad, Rebecca and Beth's wedding rings and lack thereof is also a talking point. Reddit user intoxicnt says that Beth's wedding ring is prominent in the shot, while Rebecca's hand is bare, perhaps hinting that Season 3 focuses more on her time as a widow than her first marriage and how she ends up with Jack's best friend Miguel. The obvious display of Beth's ring is only proof that she and Randall are unbreakable, right? If fans' worst case scenarios are to be believed, we at least have their admirable marriage to swoon over before Beth's health catches up with them.
Season 3 of This Is Us premieres on Tuesday, Sept. 25, at 9 p.m. ET on NBC.