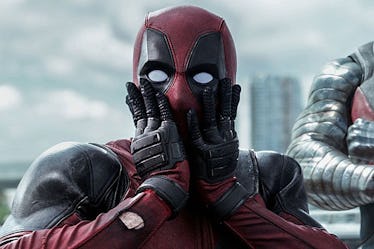 This 'Deadpool 2' Music Video With Celine Dion Is The Only Thing You Need This Week
In the wake of the Shakespearean tragedy of the MCU's Avengers: Infinity War, Marvel fans are all going to be in need of a good laugh. Luckily, 20th Century FOX is here (at least for a little while longer) to provide, in the form of the Deadpool sequel. Both trailers for the film have been hilarious. Now, with only a couple weeks left until release, Deadpool and Ryan Reynolds have brought viewers a brand new Deadpool 2 music video, like it was still the 1990s.
No really, the song and the video is very 1990s when it's not going all Flashdance and 1980s, all the way down to who he got to collaborate with him. Would you believe the answer is Celine Dion? The woman best known for the most serious and sappy ballads of the last two decades, like Titanic's "My Heart Will Go On," is lending her amazing talents to the silliest R-rated comedy of the year.
Those who don't know much about Dion might be surprised, but her fans won't be. Celine Dion is known for her sense of humor, including on the red carpet, as well as embracing her inner nerd, and proudly being funny as heck during her Vegas residency.
Joining forces with Deadpool? This is right in her wheelhouse. The fact that it's also playing against her reputation makes it even better.
I really hope it's Ryan Reynolds in the suit doing those dance moves because there are actually pretty good. I'm not saying he'd make the Top 10 of So You Think You Can Dance or anything. But he'd definitely get a ticket to Las Vegas and would put Mary Murphy on the Hot Tamale train once or twice.
Also, no, he definitely shouldn't have asked 'NSync. This would have required Justin Timberlake to behave and share the spotlight, and chances of that are quite low. So beat it, Spider-Man.
Dion even took to Twitter to promote the video and the upcoming film. I hereby nominate this pun to Best Bad Puns of the Day.
For the record, it's stuff like this which really makes Deadpool so delightful and appealing, even to those who find his crass comedy less than comfortable, and the gross-out humor just a little too gross for their liking. Whatever happens, the Deadpool movies refuse to take themselves seriously, even when they're releasing a single which sounds like something straight out of a romantic tearjerker.
For all Marvel's MCU has produced 19 movies, nearly all of which were solid box office hits when not record-breaking monsters, there is a level where the entire franchise takes itself a little too seriously. Even comedies like Guardians of the Galaxy or Thor: Ragnarok wind up with emotional type endings. (Thor's might have even been called "bittersweet.")
It's that self-seriousness Deadpool thrives on poking fun at. It's part of the reason the first film was so popular — it was a direct send-up of the typical MCU film. Ryan Reynolds has clearly done the same with Deadpool 2, even knowing when the merger goes through in mid-2019 and Disney takes ownership of 20th Century FOX, the MCU will have jurisdiction over him and his franchise.
Already there are stories coming out how FOX has been tweaking the edges so as not to upset their future overlords, including forcing Reynolds to cut a direct dig at Disney. Fans are worried Deadpool won't survive the merger intact, but there's still hope. If the MCU can have a good laugh at themselves like Dion can, perhaps there will be room for all.
Deadpool 2 arrives in theaters on Thursday, May 17, 2018.