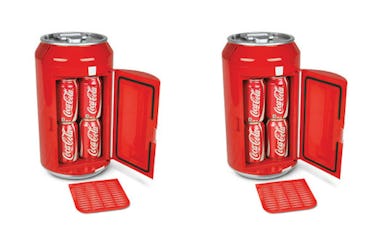 This Mini Fridge Looks Just Like A Can Of Coca-Cola For A Cool AF Way To Chill Your Drinks
The holidays are right around the corner, and many of us still have a lot of shopping left to do. You've probably already been present-hunting at the mall, checking out online deals on websites like Amazon, and even put in some effort with handmade presents for all the special people in your life. But did you know you could possibly find the perfect gift at a grocery store? This Coca-Cola Mini Fridge from Aldi might be one of the most unique presents of the season and is definitely the coolest way to chill your drinks, so definitely get your hands on one while you can (pun intended).
Aldi is selling a Coca-Cola Mini-Can Fridge that looks like a giant can of Coca-Cola and holds up to eight 12-ounce soda cans, per the Aldi description of the item. The classic, cherry red Coke bottle looks like a supersized version of the real deal, and it is a perfect present for all the Coke and soda lovers in your life. This mini-fridge can plug into a wall outlet anywhere in your home but if you need the mini fridge to keep your drinks cool on-the-go, you can also plug it into a car power socket. The fridge also has a "self-locking recessed door handle" and removable shelf so you can customize the inside.
Per Delish, Aldi released the Coca-Cola Mini Fridge on Dec. 5 as a "Aldi Find" for that week, which means you can purchase the product in-stores until Dec. 12, when the grocery store chain will release a new set of Finds. While the mini-fridge is listed online as $44.99, note that prices and availability will depend on the location.
If you live near an Aldi, the Coca-Cola Mini Fridge isn't the only deal for the week of Dec. 5 Aldi Finds. You can find toys like the National Geographic 50mm Telescope, retro gifts like the Bauhn Nostalgic Turntable with Bluetooth, holiday gifts like this adorable Easy Home Portable Fireplace Heater, and unique snacks like this Specially Selected Chocolate Lovers or Cinnamon Brioche. Not only does Aldi have new Finds of the week for Dec. 12, but they have entirely new categories for you to explore when the Dec. 5 deals are over. In Santa's Workshop, you'll find super cool Firefly Star War's Toothbrushes. For your pets, Aldi has the cutest Heart to Tail Pet Pajamas. The grocery chain even has some pretty cute apparel, from fuzzy socks to plush bathrobes. What can't they do?
You can find some pretty sweet deals on almost anything you're looking for at Aldi this holiday season. Aldi is headquartered in Illinois and has more than 1,600 stores across 35 states so not everyone in the U.S. has access to the deals since you have to visit a store to make a purchase (the deals don't apply to online purchases). But for those with access to this no-frills grocery store, take advantage of the Aldi weekly specials throughout the holidays to save on presents, household essentials, and food — your wallet will definitely thank you!