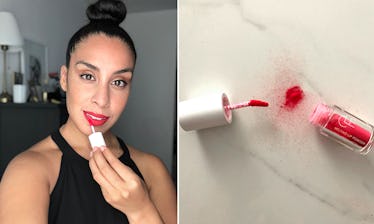 Powder Lipstick Is A Thing Now & It'll Turn Any Makeup Routine Into A Magic Show
Stephanie Montes
For decades, lipstick was the exact same product, packaged in the exact same way, and usually pigmented in the exact same color. Sometime in the '30s, shades began to shift away from the classic old-Hollywood red — that was a milestone. And not too long ago, liquid lipsticks changed everything we ever knew about the old-school bullet. Even now, there's a new crop of lipstick palettes that encourage you to apply them with your fingers. Though the lipstick has seen it's fair share of upgrades, its pretty much been the same for centuries. But my Cle Melting Lip Powder review will change everything you thought you knew about lipstick.
For starters, the product isn't a cream at all — though it comes in a tube and has a built-in doefoot applicator, its unlike anything you (or I) have ever seen — it's a powder. And no, I don't mean it's a cream with a powdery finish or a liquid with a powder-inspired texture, it's a legitimate fine-milled dry powder. It can even be poured directly out of the tube into a tiny pile on your bathroom counter (not that you'd actually do that, but you know what I mean). It's the craziest innovation I've seen in lipstick...ever!
Just like your go-to liquid lipstick, you can screw on the top and throw it in your bag for on-the-go applications, and other than it being about the size of my palm, it looks just like one too. But a closer look would confuse even the most seasoned beauty junkie. Through the clear acrylic tube, you can see the product is in fact, not your average liquid lipstick, but a powder.
Shades above (from left to right): Milk Choco, Red Cherry, Plum Medium.
This is what the product looks like spilled out onto a surface. It's a dry powder that disperses with even the slightest breeze. Crazy right!? I know what you're thinking though, "how does it stick to my lips?" Get this: It spreads evenly and melts right into your lips juslt like any other lipstick would.
I don't know if it's the warmth of my body that melts the powder, or pure wizardry, but the CLE Melting Lip Powder ($20; Neiman Marcus) transforms into a cream upon contact. Don't believe me? See below for what happened when I rubbed the pile of powder into my countertop. It disolved into a creamy, non-drying formula.
The best part about this interesting texture is that it's totally buildable. I dabbed it on with my finger for a light stain and diffused look, perfect for a barely-there wash of color. For a fully pigmented finish, I applied it straight out of the tube with the applicator. See below for the side-by-side comparison.
And if you're a busy (or in my case, slightly lazy) girl, you don't have to worry about reapplying throughout the day. It won't rub off and after hours of wear, it leaves behind a stain so your lips never look naked.