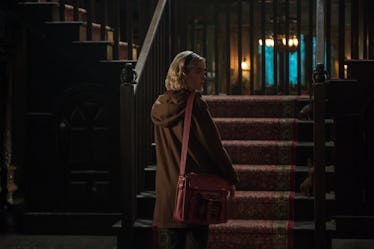 This 'Chilling Adventures Of Sabrina' Clip Shows Salem In A Whole New Way
Netflix
Rejoice, Halloween fans, for this year brings a brand new coven of witches to the small screen for the scary holiday. The Riverdale spinoff, Chilling Adventures of Sabrina (aka CAOS) arrives the weekend before All Hallows Eve, and it's bringing back characters fans know and love from the 1990s adaptation. But like Sabrina herself, who has more "first world witch problems" than "high school problems," these well-known characters have undergone a bit of a makeover. For instance, in the newest Chilling Adventures Of Sabrina clip, her trusty sidekick cat Salem has undergone quite a change.
Like all good witches, Sabrina has a black cat, or as they are known by their cat lady owners, a mini-panther. In the original 1990s version of the show, Salem Saberhagen was a 100-year-old warlock trapped in a cat's body, who used his of hours between world domination plans to give Sabrina life advice. At the time, using a real live cat was unthinkable, considering all the character had to do, so he was played by an animatronic puppet.
Fast forward 20 years to the current reboot and CGI has turned the tables so much, using an animatronic puppet is now the unthinkable scenario. But the ability to use a real animal has also changed the way the character behaves quite significantly.
For the record, the original Salem would never have deigned to meow in such a manner, or be snuggled where anyone might have seen it.
But this is only the beginning of the changes. The new Salem is no warlock under a spell for attempting to take over the world. Nor is his character following the re-imagined Salem from the Chilling Adventures of Sabrina comics, where he was a mortal man being punished by a coven of witches for getting his witch girlfriend pregnant and then refusing to accept any sort of responsibility for his actions.
Instead, Salem is now a demon of sorts, one who came crawling in the window when she called out for help. He seems to be her self-appointed protector and has adopted Sabrina as his own human. Not unlike how most cats behave, to be honest.
Salem as a protective figure who spends most of his time in cat form letting out the occasional meow and hiss actually makes sense considering the issues showrunner Roberto Aguirre-Sacasa detailed in filming with a real live feline. It turned out Sabrina lead actress Kiernan Shipka was allergic to her kitty costar, leading to the show needing to keep them on opposite ends of the set when filming while using him as sparingly as possible.
Still, though Salem's part may have been partly cut, fans were worried his character would disappear altogether, It's good to see Salem will be hanging around to keep an eye on Sabrina, even if he won't be doling out the same wisdom as the original cat was known for.
Chilling Adventures of Sabrina will consist of ten episodes, all of which will arrive on Netflix the weekend before Halloween, on Friday, Oct. 26, 2018.