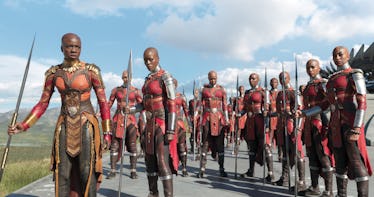 This One 'Black Panther' Deleted Scene Will Make You Want To Buy The DVD ASAP
Marvel
Like all the best fantasy movies, Black Panther, which rings in at two hours and 15 minutes, was originally a much longer film. Reports back in the fall said the first cut of the final film was over four hours long. While some of the cuts were easier than others, there was one scene in particular Coogler fought to keep until the very end. It was such an important plot point, executive producer Nate Moore says he's certain it will end up as one of the Black Panther deleted scenes on the DVD/Blu-Ray. If his description is anything to go by, it's going to be one of many reasons to run out and buy it when it hits stores.
What was this scene? In was one featuring Okoye (Danai Gurira), the Dora Milaje guard. While Ayo (Florence Kasumba) was the first Dora Milaje fans met back in Captain America: Civil War, and she's one of the guards in the film, the lead guard role goes to Okoye. Over the course of the movie, we learn a lot about her in passing, most importantly the fact that her loyalty is not to any one man, but to the country and the throne of Wakanda.
We also learn she's in a relationship with the leader of the Border Tribe guards, W'Kabi, when she contacts both T'Challa and W'Kabi when they happen to be hanging out together. While there's not much screen time given over to the couple, their relationship becomes very important during the final battle when the Dora Milaje and the Border Tribes find themselves on opposing sides: hers defending T'Challa, the true king, and his defending Killmonger and his vision of conquest.
The scene which was cut is one establishing their relationship further, ahead of the final showdown.
Here's Nate Moore's description of it:
So in the film it is more than hinted at that they're a couple, but there is a scene directly after Killmonger takes the throne where you hear both characters articulate their point of view as to why they should or shouldn't follow this man and it's one of the most well-acted scenes I've ever been a part of.
There's a much more truncated version of this conversation we see in the throne room, where Okoye basically says "this is not our way" and W'Kai counters with the "the world is changing" speech from the final trailer for the film.
There's also the other scene fulfilling this purpose, just before Erik and the amazing "world turned upside down" shot where he takes the throne, when Nakia comes to Okoye and asks her to join her and Ramonda in traveling to the mountains to see if M'Baku will agree to help them stage a coup. Okoye makes her position clear, she detests Killmonger, but her job and her beliefs make it so she must stay loyal.
This longer scene they cut was therefore somewhat redundant, as well as dragging down the build-up to the climax when T'Challa is resurrected and the fight begins.
Unfortunately, it occurred at a point in the movie where audiences just wanted to get to the resolution and so it slowed down a part of the movie and we were afraid audiences were checking out. We were also afraid if we took it out we're going to ruin this movie—'guys we're going to ruin this movie; let's not take it out.' We didn't take it out for three or four screenings and we finally took it out and I think Ryan and I were probably the last men on that beach saying don't take it out."
Would it have enhanced the film to have the scene? Hopefully, we'll find out when the DVD and Blu-ray versions of Black Panther arrive in time for holiday shopping next fall.