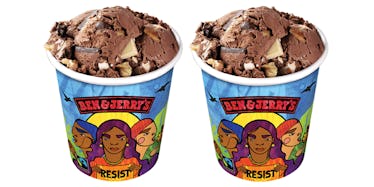 Ben & Jerry's Newest Ice Cream Flavor Protests President Trump's "Regressive" Agenda
Ice cream brand Ben & Jerry's has never been shy about taking a stance on politics. Now, the Vermont-based company is taking it a step further with a new flavor that directly protests President Donald Trump. Ben & Jerry's Pecan Resist ice cream is hitting back at President Trump's "regressive and discriminatory policies," according to the creamery's website. The limited release flavor is available for purchase now. Here's what you need to know.
On Tuesday, Oct. 30, just one week before the 2018 midterm elections, Ben & Jerry's announced the new Pecan Resist flavor to hit back at President Trump's agenda. The ice cream brand is partnering with four groups working on behalf of people or causes that have been threatened by the Trump administration, including groups advocating for the rights of people of color, women's rights, and the environment. Ben & Jerry's will donate $25,000 to each of the four groups, per USA Today. On Instagram, the company writes that supporting these groups and issues "have been at the core of our social mission for 40 years."
"This flavor supports groups creating a more just and equitable nation for us all, and who are fighting President Trump's regressive agenda," an Instagram post published by the creamery read. Elite Daily reached out to the White House for comment, but did not immediately hear back.
The timing of the release is important to note. The new pint-sized, politically charged flavor from Ben & Jerry's is launching one week before the 2018 midterm elections, which will be held on Tuesday, Nov. 6. (Make sure you get out and vote). In case it didn't click yet for you, the name "Pecan Resist" is a play on words for "We can resist." It's a nod to the Resist movement that's taken over social media since President Trump took office in 2017.
The Pecan Resist flavor is already available for purchase directly on the Ben & Jerry's website. (Yes, you can buy ice cream online.) It only costs $6.99 per pint. You will have to pay for shipping, though. If you spend $50, shipping only costs $9. I say go ahead and stock your freezer for Election Day (and night) with the new Pecan Resist flavor. At the very least, do something nice for your friends and order a few extra pints. There's nothing like the gift of ice cream.
If you don't want to buy ice cream online, you can head out to your nearest Ben & Jerry's scoop shop for a taste of Pecan Resist.
Don't worry, the cause isn't the only thing it has going for it. According to Ben & Jerry's, Pecan Resist is made with chocolate ice cream, and features chunks of white and dark fudge, pecans, walnuts, and fudge-covered almonds. Whatever your political views may be, there's no denying that this flavor sounds incredibly delicious. If this description sounds familiar, that's because the limited-release Pecan Resist ice cream is actually just New York Super Fudge Chunk with a new name. Regardless, I'm all for any dessert that has pecans in it. Yum. Oh, and can we take a second to talk about how badass the packaging is too? It was designed by artist Favianna Rodriguez.
While you're busy dreaming about how delicious this newly rebranded Ben & Jerry's ice cream flavor is (and the social good it can do), don't forget to vote in the 2018 midterm elections on Tuesday, Nov. 6. Meet you for ice cream after the polls close.