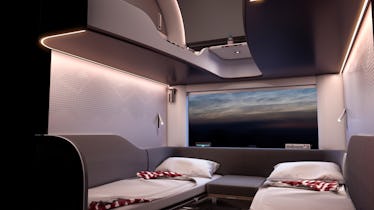 These Overnight Trains Take You Around Europe In The Comfiest Way Possible
If you're a semi-experienced traveler, you're probably well-aware of the fact that traveling and being comfortable usually aren't synonymous. Being cramped on a plane with hundreds of other strangers can really be quite exhausting, so I usually end up opting for train travel, if it's an equally-feasible option. So if you, too, are seeking out a more comfortable travel experience, this Austrian Federal Railways ÖBB Nightjet overnight train is literally taking comfort to the next level. Honestly, it's kind of making me consider taking off to Europe, like, right this second.
Renowned British design company, PriestmanGoode, is currently working on a new (and totally awesome) project, which is sure to get the travel bug inside of you going. According to Travel + Leisure, they're collaborating with Austrian Federal Railways ÖBB Nightjet, to seamlessly integrate coziness and sophisticated technology into overnight trains. Essentially, each train cabin will sport living room-style furnishings, extra comfy sleeping compartments, everything you could want for work or play (ahem, plenty of outlets and wifi), as well as a wide variety of dining options. Most importantly, though, they're going to have humongous windows for all those highly sought-out #TravelViews. Count me in, baby — it looks like traveling just got a whole lot sweeter.
In terms of seating, PriestmanGoode is looking to give passengers all the privacy and space that they need. So, according to Travel + Leisure, each train will have both economy and first class carriages, complete with seats facing forwards and face-to-face. They'll also offer double and single seats, as well as couple's seating. The "couple's seating" will be complete with a pull-up armrest, with the ability to turn into a sofa, for those looking to get comfy.
Also, they'll be offering seats for singles who want to spread out, and each seating area will be complete with charging spots and trays for your technology. If you're with your family or a big group of friends, however, there will also be "meeting rooms" with see-through glass walls. These allow you to converse, play, and hangout, without feeling like you're bothering everyone.
The sleeping options vary tremendously as well. The train will offer several "Japanese capsule-style" options for single travelers, couples, and, of course, families. Each options comes with lockers for storing personal items, and if you book a first class pod, you'll get a bathroom en-suite (fancy, I know). The dining options, on the other hand, span from vending machines, to cafeteria-style benches, and even face-to-face sit-down dining. I'm telling you, your experience is entirely up to you.
Unsurprisingly, even the train's luggage storage is super high tech, making way for an exponentially more comfortable experience. Per Travel + Leisure, PriestmanGoode designed the economy-class seats so that they're slightly raised, which lets passengers store their carry-on luggage between and underneath seats. This way, short folk (like myself) won't have to struggle maneuvering large bags above their heads every time they need something. If you're traveling with bikes, motorbike, or ski equipment, there's also on-board room for large equipment.
Sadly, this train isn't running just yet — it's set to start chugging in 2021. Its destinations include major cities throughout Austria, Germany, Switzerland, and Italy, along with connections to Slovakia, Croatia, Slovenia, Poland, Hungary, and the Czech Republic. Heck, I'd take this train around the world, if I could.
Train travel usually tends to be a solid option, but the upcoming ÖBB Nightjet just made train travel even better. Your experience is totally up to you, and knowing me, I'll probably be glued to the huge windows the entire time. Lookout Europe, here I come.