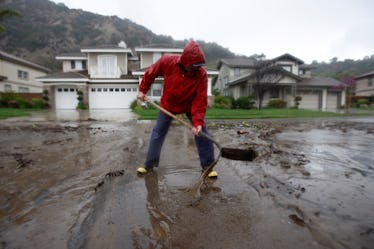 These Videos Of The Mudslides In California Show The Devastating Destruction
David McNew/Getty Images News/Getty Images
Natural disasters aren't new to California, but their latest one is completely devastating. As images of the mudslide in California roll out online, it's becoming even clearer just how horrific this incident really is. Videos of the mudslides in California are heartbreaking and show that there is much more to come on the road to reconstruction.
At least 15 people have been reported dead since the mudslide started on Tuesday, Jan. 9, according to The New York Times, with an additional two dozen people reported missing and another 28 injured. Santa Barbara County Sheriff Bill Brown said at a news conference on Tuesday, Jan. 9 that the death toll is expected to rise in the days to come as rescuers continue to dig through debris. In addition, fire crews have rescued at least 50 people in the Montecito area, a low-coastal part of California, where mudflows and flood water have swamped downstream areas, and there are tons of images on social media that reflect just how catastrophic that damage really is.
As of Jan. 10, highways are shut down, homes are destroyed, and people are left stranded. Multiple photos and videos illustrate the disastrous state of the city, and what Californians are left facing.
People are even taking matters into their own hands and clearing pathways of mud.
ABC7 anchor Brandi Hitt shared a video that showed a local resident using his own front loader to clear a road of mud and debris.
Others shared photos of the devastation including road closings, charred lands, and heroic rescues.
In other parts of the city, gas lines were on fire, which posed an even more extreme threat to the residents of Montecito.
Some shared pictures of their damaged properties that look completely irreparable.
The devastation comes at an already difficult time. Montecito was already charred from the state's largest-ever wildfire devastating Thomas Fire, which burned over 280,000 acres across Santa Barbara and Ventura counties in the several weeks between when it broke out and when it was contained. Since the fire had burned away grass and shrubs that help keep soil in place, the area was vulnerable to mudslides — there was no way to prevent the mudslide from happening once heavy rains hit the area in the days before the disaster.
Authorities warned residents of dangerous floods and mudslides ahead of heavy rain forecasts in the area, ordering 7,000 residents to evacuate and recommended another 23,000 do so voluntarily. However, only 10 to 15 percent of residents with mandatory evacuation orders complied, according to Reuters.
Now, in the aftermath of the mudslide, officials say their main priority is to ensure the safety of residents who were affected by the disaster. During a news conference on Jan. 9, Sheriff Brown said, "Right now our assets are focused on determining if anyone is still alive in any of those structures that have been damaged." He added that there are "at least several dozen homes that have been either destroyed or severely damaged, and likely many other ones in areas that are as-yet inaccessible."
With all of the natural disasters that have occurred in the past few months, it's heartbreaking to see another catastrophic event happen. California just dealt with their largest wildfire in the state's history — in the same area — and I can't begin to imagine how chaotic and saddened the people of California are feeling during this tragic time.
It's unclear how long the road to recovery will be in the aftermath of the mudslide. Still, to anyone in the affected areas, please stay safe! Our thoughts are with you.