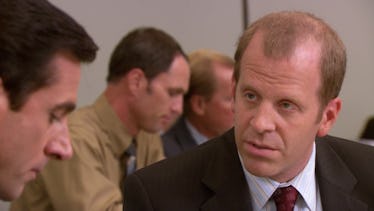 This 'The Office' Meme About Winter Storm Toby Is Proof We're All Done With Winter
Netflix
This winter has been a pretty strange one for the Northeast region of the United States. There were high points and low points, including an unheard of "bomb cyclone" snowstorm that hit in the first days of 2018. And even though March 20 is the first day of spring, the Northeast is still gonna get hit by one last (and I hope the last) snowstorm of the season. The storm's officially been named "Toby" — and if you're anything like me, The Office immediately popped into your head. And these tweets about Winter Storm Toby and The Office confirm that everyone else is as over the cold and snow as I am.
We kicked off the year here in the Northeast with a "bomb cyclone" snowstorm. And after that craziness followed a couple of weeks of pretty tolerable winter temps. We were even treated to a couple of unseasonably warm days, so everyone pretty much thought the cold bitter winter was nearing its end. But alas, in the final weeks of winter this region was hit by three nor'easters in March, and Mother Nature clearly doesn't want to let the Northeast off easy just yet.
A fourth nor'easter is expected to hit on March 21, just one day after the first day of spring. Mother Nature is a cruel, cruel lady, and the name of the snowstorm accurately reflects how I think everyone is feeling about this situation — Toby, Michael Scott's most hated employee and the biggest nuisance on The Office.
And the tweets about Winter Storm Toby affirm that this winter weather seriously needs to end already.
I mean truly, it is seriously harsh to be getting hit with this many storms in such a short time frame. And it's supposed to be spring already — aka no more snow! Not only is the Northeast getting a dose of Toby when it's already supposed to be getting warmer, it's apparently going to be the worst nor'easter we've had this year. So obviously, Toby is the perfect name for this really annoying snowstorm.
According to The Weather Channel, areas affected by the storm are expected to get anywhere from six to 10 inches of snowfall by the time the system passes. New York City public schools have already closed ahead of the storm — which if you're like me and grew up in this city, you know is a big deal. The previous three storms that have passed through the Northeast were awful in terms of wind speeds and freezing temperatures. In New York City at least, we didn't see the snow sticking around for long. But according to CNN, the snow from Toby might last longer depending on how cold temperatures will be as the rest of the week pans out.
Great.
I love the winter and the snow, but seasons are not supposed to trickle into one another in this major of a way. I mean, by the time this Toby storm is over there will have been four major snowstorms in less than a month. Even though it's actually not that uncommon to see frequent nor'easters at this time of year, this is just two (and three) more heavy snowstorms than I can personally handle.
I am definitely not excited for this nor'easter, and by the looks of these tweets, clearly nobody else is a fan either. But at least someone at The Weather Channel has good sense of humor and decided to name this storm Toby. This little tiny bit of comic relief is making the imminent storm a touch more bearable. Hey, it's something.