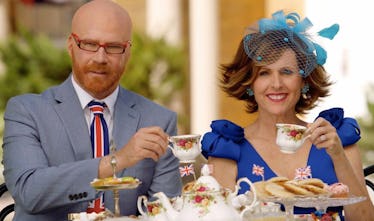 Will Ferrell & Molly Shannon Covered The Royal Wedding & The Videos Of It Are Priceless
HBO
The royal wedding has officially come and gone, and watching Prince Harry and Meghan Markle get married got the internet hella emotional. When it comes to the royal family, people are usually torn between loving them and being indifferent toward them. That difference makes a lot of room for trolling people, and Will Ferrell and Molly Shannon capitalized on that on a expert level. The former SNL co-stars did parody coverage of the royal wedding for HBO in a special called The Royal Wedding Live with Cord and Tish!, and the tweets about Will Ferrell and Molly Shannon's royal wedding coverage shows the comedians' trolling was a hit.
Ferrell and Shannon's live coverage of the royal wedding featured them playing the characters Cord and Tish. The whole gag is that Cord and Tish don't actually know much about the royal wedding, English history, and royal tradition, so they were saying things like the queen arrived to the wedding in a Hyundai and Meghan's train on her veil was 1,000 feet long. It was seriously hilarious commentary that Tim Meadows and Kristen Wiig also got in on, but people were mostly in love with Ferrell and Shannon's hilarious performances.
They called Harry and Meghan's kiss was a "giant kiss for mankind" and then sang the Kay Jewelers jingle.
Ferrell also trolled the royal family by making a short documentary about the crown jewels that provides absolutely zero information about the crown jewels.
HBO really knocked the ball out of the park with this one, and people on Twitter thought the whole show was hilarious.
One Twitter user said, "Nothing more American than a Will Farrell character doing play by play of an English wedding. Hilarious!" Honestly, where is the lie? American trolling English culture (and vice versa) is as noble a tradition as any other we have, and now it's even more legit because we officially have an American dutchess in Meghan Markle.
HBO's description of the Cord and Tish special promised hilarious coverage from the hosts. It said,
Broadcast legends Cord Hosenbeck and Tish Cattigan are heading across the pond to host the Royal Wedding. The duo bring a personal perspective to any special event, and this time the veteran TV hosts are teaming up with their old friend Tim Meadows and special guests to cover the wedding procession and festivities with their trademark dignity and grace.
Ferrell and Shannon also did talk show appearances in character the week leading up to the royal wedding, and it's as funny as you would imagine.
Cord and Tish sang a special song for Harry and Meghan on The Tonight Show Starring Jimmy Fallon.
The lyrics started off with Cord singing, "Far off in a fairy land where lords and ladies dance, there lived a sad and lonely prince who dreamed of true romance." Then Tish came in with, "From a land across a mighty sea, a lovely maiden came. She was a true American, and Meghan was her name." Naturally, it ended with Cord doing a saxophone solo because Will Ferrell and Molly Shannon #committotherole.
One of the funniest parts of Cord and Tish's live coverage of the royal wedding was when Kristen Wiig showed up dressed as a man and said Ray Liotta was one of the wedding guests. (He wasn't.)
And Tim Meadows' commentary had people weak.
Cord also made a little documentary about high tea that has me weak.
Essentially, Molly Shannon and Will Ferrell had the best royal wedding commentary of all time and I hope they win several Emmys for it.