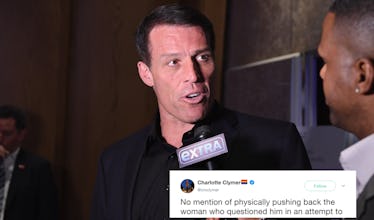 This Famous Influencer Said #MeToo Is About Attention & People Are Calling It Out
Chip Somodevilla/Getty Images News/Getty Images
The self-help industry, on paper, seems filled with many sensitive people who are empathetic and compassionate. But after a woman's interaction with a well-known self-help guru went viral, it's clear that the misguided logic of victim-blaming can surface in any field. These tweets about life coach Tony Robbins' Me Too comments show people are pissed.
Robbins, a lecturer, author, and life coach who owns several billion-dollar companies, was addressing a crowd at a recent seminar in San Jose, California, when he suggested that some members of the #MeToo movement might be using it to make themselves feel "significant." The video was first published by NowThis on April 6.
"If you use the #MeToo movement to try to get significance and certainty by attacking and destroying someone else, you haven't grown an ounce," Robbins said. "All you've done is basically use a drug called significance to make yourself feel good."
A woman named Nanine McCool, who NowThis identified as a sexual assault survivor, apparently took issue with Robbins' words, and called him out during the seminar. "So, I think you misunderstand the #MeToo movement," McCool said, adding, "you are a leader and an influential man. And you are doing a disservice, in my opinion, to the #MeToo movement."
Robbins then engaged McCool in a physical demonstration, asking her to hold her fist in front of her while walking toward her to prove a point about ... something? It's not clear from the video what is actually happening during that moment, as Robbins swiftly walks toward McCool. "You're telling me that the more I push, the more I am going to be safe?" Robbins says after the demonstration.
Robbins is best known for his infomercials, seminars, and self-help books — he even made a cameo in 2001's Shallow Hal, playing a version of himself who gives the main character relationship advice. He amassed a following as a motivational speaker, by asserting recommendations for how to live happier and healthier. His books cover topics like personal and professional success, relationships, and actualizing your goals.
His comments are particularly concerning because he is trusted by so many to be a voice of reason — he has more than six million followers between Facebook and Twitter. To suggest that survivors of sexual assault are seeking attention for their own personal gain completely undermines the #MeToo movement — and with Robbins, it comes from a mouthpiece widely-regarded for his emotional intelligence and sensibility.
Tarana Burke, who started the #MeToo hashtag, tweeted her response to Robbins' comments a day after NowThis published the video.
"They wanted to 'give me context' apparently," Burke said. "I don't need any. I have eyes. The full video is 11 mins. And it's gross. Bravo to this woman."
After mounting criticism, Robbins posted an apology to his social media accounts, saying,
At a recent Unleash the Power Within (UPW) event in San Jose, my comments failed to reflect the respect I have for everything Tarana Burke and the #MeToo movement has achieved. I apologize for suggesting anything other than my profound admiration for the #MeToo movement ... I teach that 'life happens for you, not too [sic] you,' and what I've realized is that while I've dedicated my life to working with victims of abuse all over the world, I need to get connected to the brave women of #MeToo.
Robbins' comments, and his apology, equally sparked a fair amount of outrage on Twitter — particularly the fact that he didn't mention McCool in his response to the viral video of the two of them.