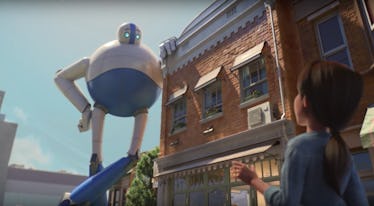 People Were Really Loving Intuit's Super Bowl Commercial For This One Reason
YouTube
Software company Intuit took the Super Bowl by storm on Sunday, Feb. 4, 2018, when they debuted their very first Super Bowl commercial. While Super Bowl ads are known to stretch that air time to the fullest, this software company took a completely different approach, and I'm into it. People were loving Intuit's Super Bowl Commercial for one reason, and that's the pure simplicity of it all.
Intuit premiered their commercial in order to shed some light on the company's products, which include Turbotax, Quickbooks, and Mint, where they work together in order help the greater good — that is, us, totally getting things done quickly and efficiently.
So how did Intuit decide to do that? By getting straight to the point. The commercial begins by a narrator describing the work done by Turbotax and Quickbooks, as the dreaded "you can skip this ad" box haunts in the corner. Next to the box is a man desperately trying to reclaim his time and make the commercial end sooner. That's when Intuit's latest mascot, a robot, comes to the rescue and saves us all. Instead of having to wait 20 more seconds for the ad to be over, the Intuit robot simply pushes a button and immediately allows viewers to skip the commercial.
I think we can all agree there's no sweeter feeling than skipping an advertisement.
The commercial wraps it all together when the narrator states at the end of the video "because time is money." Finally, a company that gets it.
This unique take on a Super Bowl advertisement didn't go unnoticed by audiences. Following the commercial, Twitter praised the ad for its simplicity and creativity. (And a lot of people showed some love for the intuit Giant character, which even had its own Snapchat filter.)
The robot featured in the Super Bowl ad hails from a longer four-minute video that Intuit premiered on Feb. 1. Unlike Intuit's short-and-sweet Super Bowl commercial, the earlier video tells a lengthier tale and features a few more characters than just a time-saving robot.
Want to meet these characters? There's the protagonist Pari, an engineer and entrepreneur; Pete, a struggling flower store owner; and of course, the Intuit the Giant, who aids Pete in growing his business by helping him manage his finances.
The longer video is adorable, but beyond that, there's actually some pretty amazing meaning behind it. Intuit's Chief Marketing Officer Lucas Watson told Ad Age that the creation of Pari as an female engineer and entrepreneur was meant to realistically depict the Intuit workforce. According to Watson, women make up 37 percent of Intuit's engineers and 40 percent of the leadership team. Girl power, baby.
As for the Intuit robot, its gender androgyny isn't a fluke. "It doesn't have a name and we wanted to stay away from gender stereotypes in either direction," Watson told Ad Age.
Lucas told Ad Age that the influence of contemporary movements, such as #MeToo, and everything going on with the Trump administration helped inspire the making of this commercial.
He said,
This is a crazy time right now, #MeToo and Trump and tax reform, it's a tense time. We are a company that's been historically very humble, we are very customer-driven, customer-obsessed, we think we have a pretty clean track record on our ethics and our values. We take our relationship with our clients super seriously. We are one of the best places to work for women. We had permission to stand up and say for all the bad in the world there are a very good stories going on. So we think the time is right.
The animation of the short is thanks to Passion Animation Studios, which also made the 2015 Spanish Christmas Lottery ad.
Skipping ads and promoting gender equality? Intuit for the win.